If you are interested in room designs and layout planning, then the following tools and apps will definitely come in handy.
With predefined elements, beautiful templates, and useful tools, the convenient apps will allow you to quickly realize your creative ideas, regardless of your design experiences.
Find out about each of them with our most comprehensive reviews of the different apps, so you can always find the best room layout app.
Room Planner
With Room Planner, you'll have a convenient design tool on your mobile device or tablet, which is capable of quickly generating different floorplans for different design options. You can use it to immediately have your predesigned layouts for the rooms or the entire apartment.
Feel free to use real-life suppliers' furniture and design objects on your layouts. Have your floorplans and layouts enabled in 3D so you can fully visualize your dream home and have a complete idea of what they really look like?
With simple touch interactions and gesture controls, you can easily add and move the furniture around your surroundings. Make any changes to them using colour and formatting options.
Upon finishing your designs, the app will let you share your interior design ideas with others or simply save them to your in-app collection for easy reviews.
And last but not least, it's one of a few tools that you can enjoy both online and offline.
Floor Plan Creator
If you want a streamlined and fully-featured mobile tool for working on your floor plans on the go, then Floor Plan Creator is the best room layout app for the job. Here, it provides you with many features to create detailed and precise floor plans in both 2D and 3D.
Feel free to measure the layouts and have them featured in the app, so you can quickly generate your 2D floorplans. You can then allow Floor Plan Creator to generate your 3D floorplans for better visualizations automatically.
Create multiple projects with many floors available. Allow the app to generate rooms with automatic calculations of your inputs. Enjoy using the symbol library to quickly add certain objects, props, furniture, and room elements to realize your designs.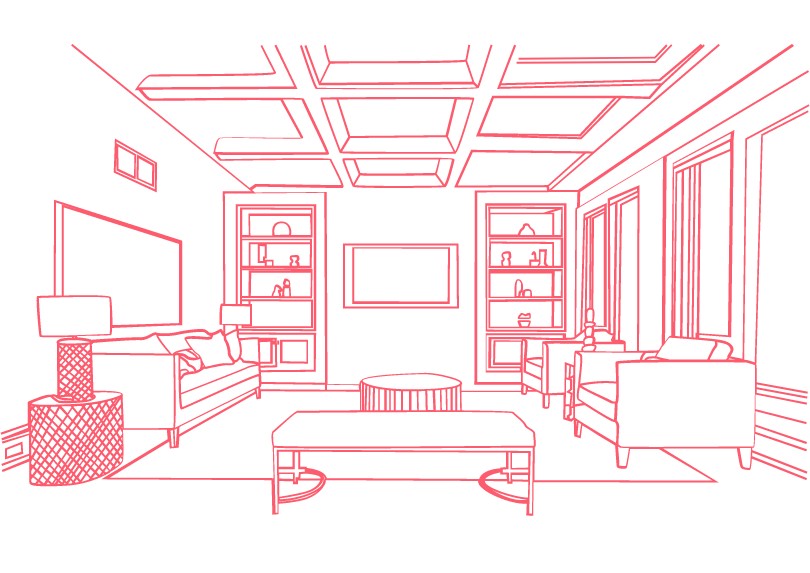 Planner 5D
By having one of the largest libraries of design elements of more than 6734 objects, Planner 5D will make sure that you can always find the right tools for designing your rooms.
Simply enter your room dimensions and preferred settings, so the app can quickly generate your most accurate room layouts. Enjoy using the AR Room visualization to unlock your 3D planner, making it much easier to visualize your designs.
Add any of the objects to your room and enjoy the intuitive touch controls to position them freely with drag-and-drop simplicity. Resize the objects to match their actual real-life dimensions. And have access to hundreds of textures and colours that will let you design your rooms and objects accordingly.
Homestyler
If you want the best room layout app and a powerful planner tool, then Homestyler will have just the right features for you.
Here, you can create layouts for different house and room designs. Have access to the huge library of models, which comes with all props and 3D furniture that will allow you to design your rooms accordingly.
Make use of the 3D cloud indoor rendering to create realistic visuals with panorama renderings, and AR (Augmented Reality) scans of your layouts.
The different design features will allow you to easily work on all the different areas of your house, including the kitchen, living room, bedroom, bathroom, and garden.
Houzz
Interested in having an all-in-one app for designing room layout? Then Houzz will have you covered. Here, the amazing tool from Houzz Inc provides you with all features needed for different design processes.
You can easily find inspiration from the huge library of 25 million high-res photos, consisting of all the best house interior and exterior ideas. Use the in-built sketch option to make any changes and annotations to the images. Then feel free to share those designs and your own ideas with others.
Once you're happy with your designs, you can have your rooms generated in 3D and have a complete look at them using the View feature.
The app supports 5 million of real products and design materials with their own 3D models. Feel free to use them for your house design. And if you're happy with your work, you can always contact the suppliers and get discounts for your in-app deals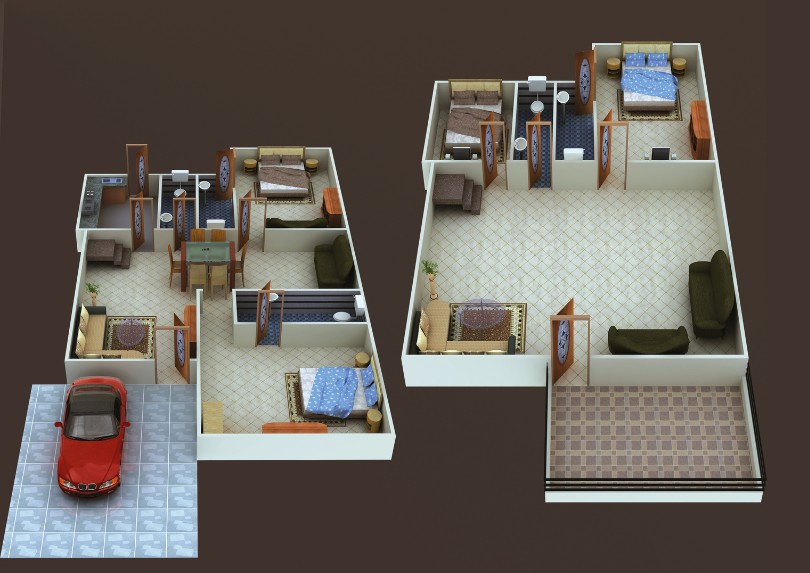 magicplan
If a simple design interface and standard features are what you're looking for, then the best room layout app of magicplan will come in handy. Have no trouble using the app to measure and sketch your house designs in both 2D and 3D.
Have access to the most useful room layout constructions, as the app enables your floorplans quickly. Edit walls and add objects to your layouts using the provided features and design materials.
Use forms and checklists to complete your design reports. And have the inbuilt tools enabled for the most accurate cost estimations of your different projects.
HomeByMe
With the inbuilt features and vast collection of design materials, HomeByMe will allow you to have the best room, and house design enabled.
Here, you can quickly get your inspiration from the 16 million projects created by casual HomeByMe users and professionals. Plus, the high-quality design images from the in-app library will consistently provide you with great design references.
And when it comes to the actual designs, HomeByMe offers users more than 20,000 products from real-life supplies. Here, you can add realistic models to your designs and start visualizing your room layouts in 3D.
Finally, the app is available on your phones, tablets, and desktop devices. So you'll have no trouble exploring its many features on the go.
Home Designer 3D
The professional home designer app is where you can work on designing your rooms and planning your layouts. Here, the room layout app offers professional features to let you quickly generate your room using predefined templates.
Simply choose the preferred options and make use of the provided features to edit your designs accordingly easily.
Here, there are no limits to the design approaches or the customizations of your layouts. And you can always create your blank projects to add any design elements or personal references to your works.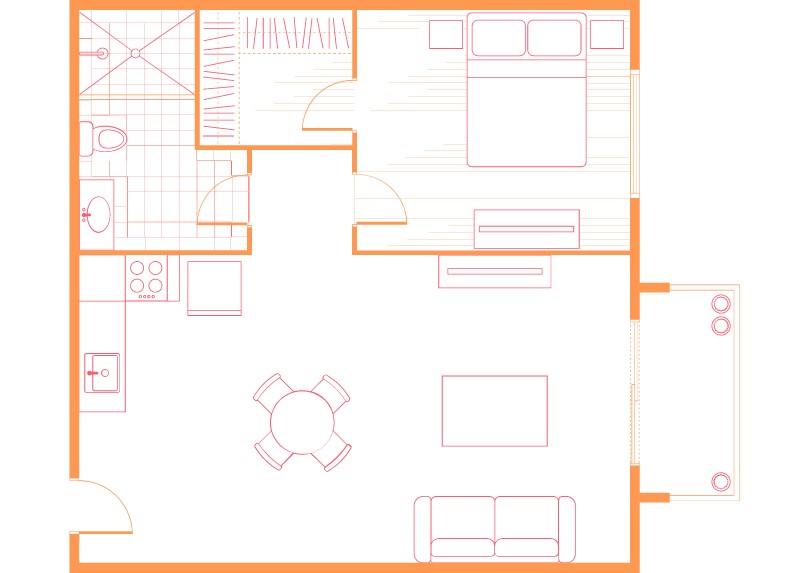 RoomSketcher for Tablets
If you want a professional sketcher that comes with authentic drawing and sketching experiences, then RoomSketcher for Tablets is a great app to use on your tablets.
Here, you can make full use of the larger touch display and the optional stylus pen, as they allow you to draw your floor plans, make your designs, and casually interact with the layouts.
Feel free to work on your professional 2D floor plans with proper measurements and detailed elements. Then easily turn them into actual 3D designs that you can quickly visualize and comprehend.
Plus, with the complete selection of furniture and other objects, you can quickly complete your layouts in both 2D and 3D with ease.
Here, it's possible to look at your designs via the 360 views upon finishing your work. And feel free to share your works with others for seamless collaborations.
Read more: 10 Best Free Event Floor Plans Online
To wrap up..
The best room layout app comes with many useful features and beautiful pre-defined works. So, you'll need them if you want to have quick and professional design layouts on the go. Check out other useful articles from Designa to best visualize your event.