Efficient multi-event management is key to ensuring everything runs smoothly. Here are the top 10 free event floor plans online for you.
The apps we figure below are completely free or require a monthly subscription. Some of these apps work as standalone applications, others will go with larger software solutions designed for floor plan creator, conference and venue managers.
1. Social Tables
Social Tables is one of the famous free event floor plan design software and was born early. It is a practical, event-mapping tool to help you visualize locations, seating arrangements, and collaborate with attendees. You can create your own plan or use one of the available 3D templates to get started. All you need to do is choose the right pattern and modify them as you like.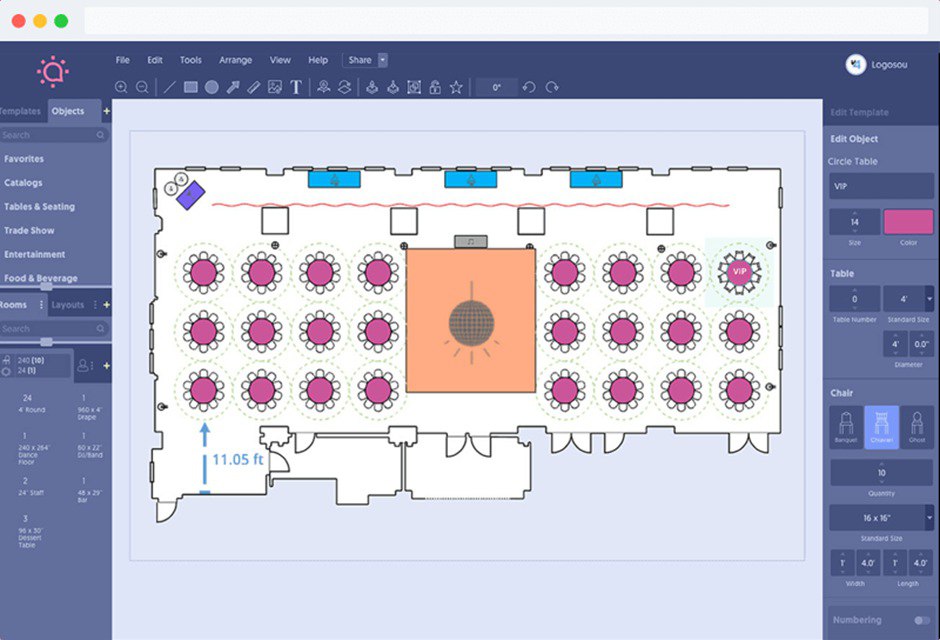 2. Smart Draw
Smart Draw is a powerful support tool for floor plan makers. Through gentle click action, you don't need to be an artist or have a sophisticated aesthetic to easily achieve a very professional presentation, illustration, etc.
Smart Draw can work as a standalone program or as part of the Office. You can also use Smart Draw to create your own illustrations and then insert them into Word-edited text easily. Nowadays, there are four versions of Smart Draw: Standard, Professional, Professional Plus, and Suite.
This event planning software is used to build graphical business interfaces such as flowcharts, org charts, Gantt charts, timelines, background plans, or other types of diagrams.
3. All Seated
All Seated is a wedding floor plan that helps couples quickly plan important days in their lives. Through All Seated, you feel like you're in the real place, no matter where in the world you are or what device you're using.
The app keeps places, event layouts, suppliers, and event organizers up-to-date throughout the design process. Moreover, All Seated continuously informs, updates, and assigns responsibilities of each person throughout the planning process so that the ceremony goes smoothly.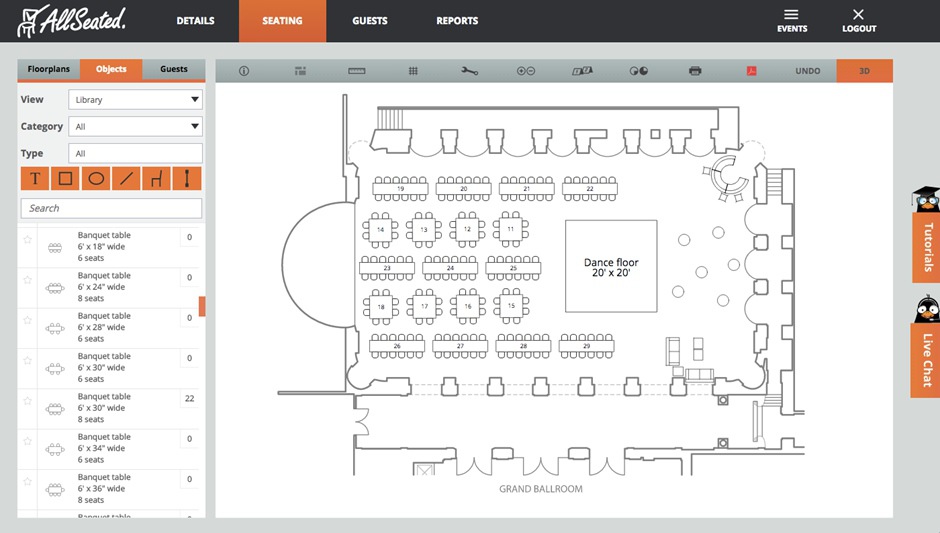 4. Event Draw
Event Draw is a free event floor plan creator to help you save time effectively. It's incredibly easy to use in event planning and venue planning and creates an event floor plan in just 90 seconds.
This tool also supports creating multiple event layouts such as prom, dinner-dance, theater and classroom style easily. Your action is to drag and drop existing furniture into your plan. From there, you will complete attractive and professional floor event designs to send to clients.
5. Planning Pod
Having event information scattered across different applications, emails, and computer files is a waste of time. Worse, it can greatly affect the success of the event. The Planning Pod is an event site plan software for planners and offers more than twenty event management tools. Share the Planning Pod with your team to assign tasks, set deadlines, and manage all team collaboration.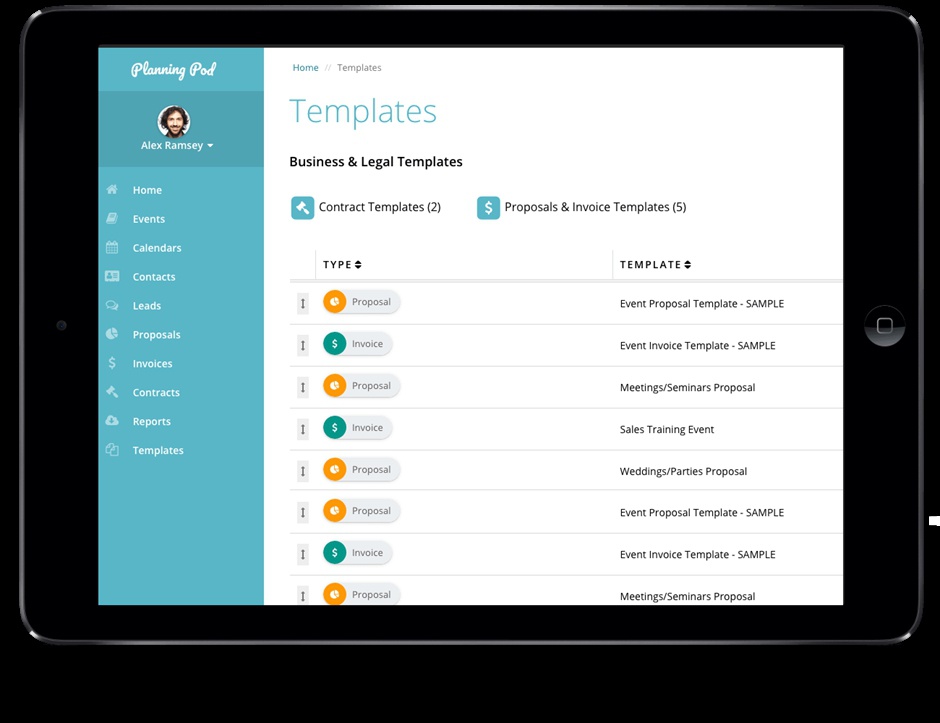 6. 3D Event Designer
3D Event Designer is the most widely used event site planning software in the world today. In just a few minutes, you can create, shape, or update different spaces to meet your usage requirements.
It is leading the way for web-based interactive 2D and 3D floor plans for many different industries. Founded in 2010, the company is a combination of many talented people, including architects, software engineers, designers, and professional sales staff. Thousands of companies, organizations, and individuals trust this event layout software to help them make better and faster decisions through 3D technology.
7. Lucid Chart
Lucid Chart is an event planning tool that can be widely applied in many fields, optimized specifically for each different use. With an extremely rich system of flowchart types, Lucid Chart will automatically find suitable styles or make suggestions so that you can work in the best way, from basic to advanced. With just a few simple and quick steps, you have created an ideal event planning for yourself or a client.
8. Vision Group
Vision Group is a popular event floor plan software that has created thousands of event floorplans ranging from hotel rooms to large stadiums.
Through working with thousands of clients per year, this event floor plan online free has a wealth of experience and knowledge that allows businesses the opportunity to help you create better event floor plans that make an impression with your customers.
9. Cvent
This event floor plan software has a user-friendly interface that allows you to easily create and design accurate event floor plans using simple drag and drop methods in minutes. In addition, it also allows you to create a variety of layout configurations in a room, not limited to an existing design.
10. Room Sketcher
Room Sketcher is a free online event floor plan for designing your home perfectly. It offers elegant design templates and a streamlined interface for floor plan design. On the other hand, Room Sketcher also provides a wide range of "accessory" parts, making it ideal for those who want to focus on detailing in small areas.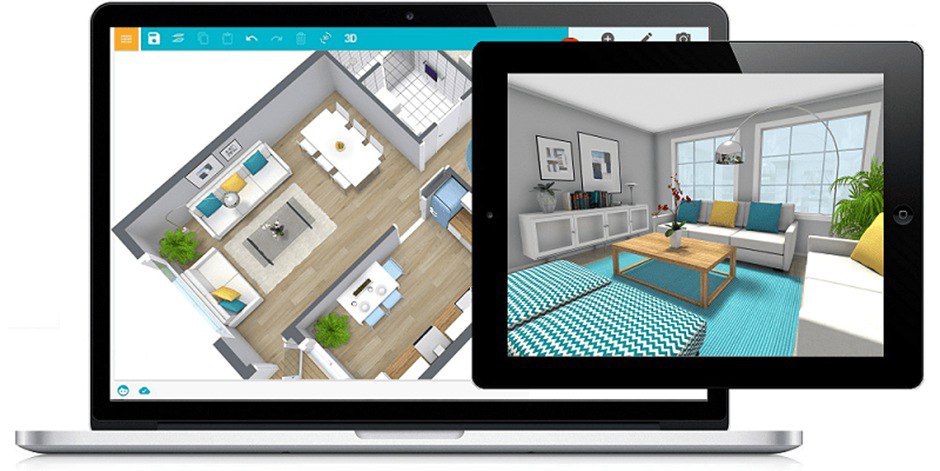 Room Sketcher's 3D view is much more vivid. When in 3D, it allows you to see details from nearly any angle in the room. In addition, the program automatically arranges some interior decoration suggestions so that you can see their reasonableness as well as visualize your future room.
Designa Studio – Everything you need in one platform!
In addition to the above 10 event floor plans online free, you can choose Designa Studio, which is an app that allows users to easily filter through imagery to find the right suppliers, venues, and decor items for their event.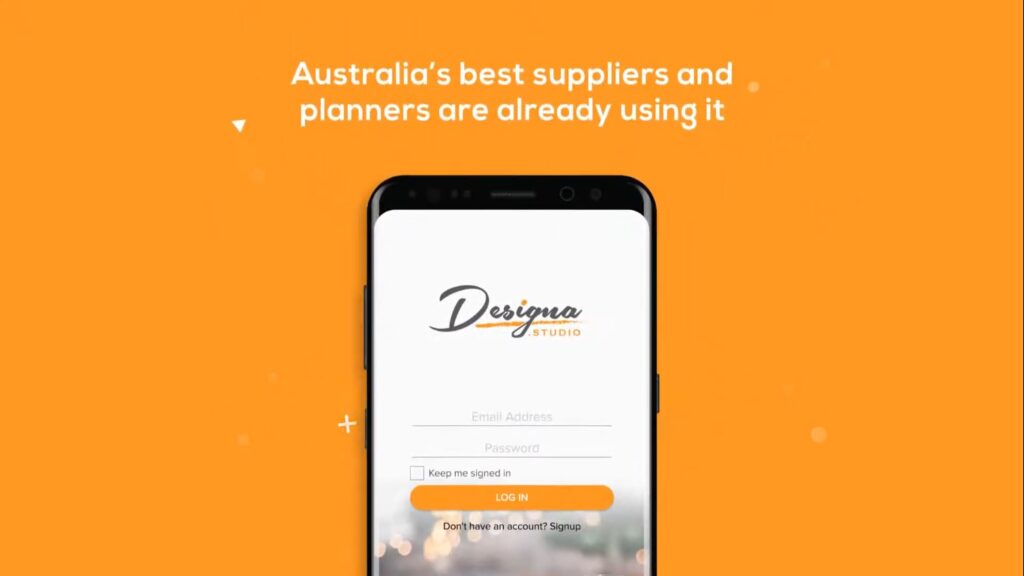 Outstanding application with many advantages:
Get inspired and start to create events.
Shortlist your favorite venues, suppliers, and decor.
Get in touch or request a quote.
Get expert advice from an experienced event stylist.
Integrating many features into one application, you simply save your favorite pieces of furniture and use the price function to know how much they are and where they are currently available.
Then, once you've submitted this list of items, the seller will send you back the exact price and availability confirmation. It is the online interaction with the furniture supplier that helps the users of the application save a lot of time and complete the beautiful event designed work.
If you want to see more wedding reception layout ideas check out this glamorous cocktail wedding reception layout from Designa Blog.