If you're looking for the best 3D diagram designer tool for better virtualizing your events in 3D and enabling them with real decorations, then Designa is certainly a great app.
Not only that the app can handle your professional 3D diagrams on multiple platforms, but the added features and brilliant concepts will make sure that you're making the most of the app without having any troubles.
Find out more about the design software and its implementations as we look at the notable features and impressive uses of the app.
Design your diagram from anywhere and at any levels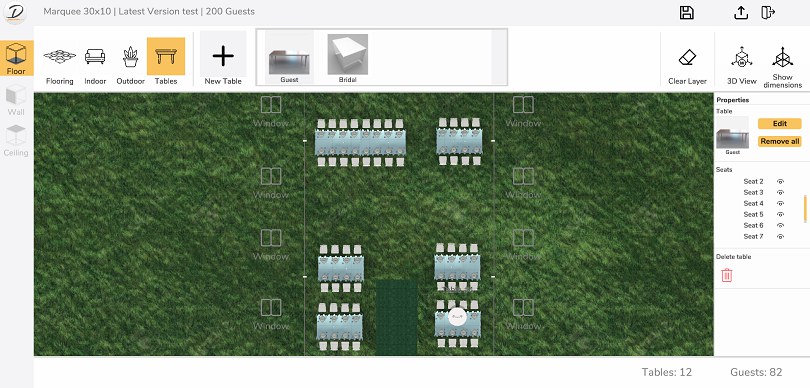 To start with, the 3D diagram designer will allow our users to handle their complete designs on multiple platforms, from your desktop systems to any tablets or mobile devices.
Feel free to use the fully-featured PC software to make the most of the application. And also, enjoy your Android or iOS apps if you want to use Designa on the go.
As for the actual 3D diagram, Designa will provide you with three different layers of professional designs based on your certain preferences.
You can use the empty venues in the app to work from scratch. Or enjoy using the provided templates or floor plans from the app, as they come with pre-defined layouts and barebone elements to get you going.
For those of you who are interested, the app will provide different options for your certain levels of design as well as even capabilities. This will make it a lot easier when you begin any projects.
And finally, first-time users in Designa will find the app being quite easy to use, thanks to the intuitive UI and available tutorials.
Design your own specific events in 3D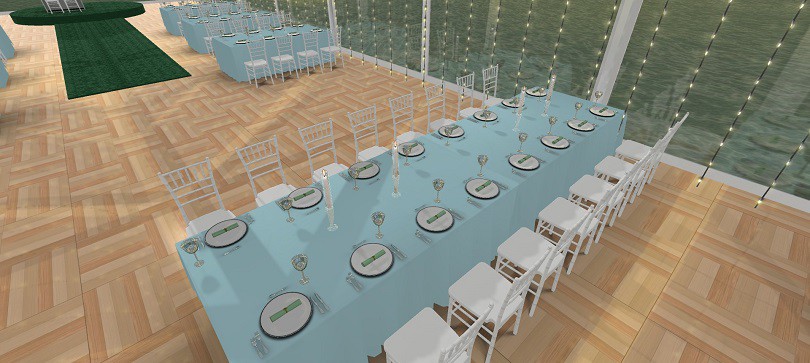 For those of you who are interested, you'll now be able to design your events in 3D using many convenient in-app features.
Start by designing your own table setups with different options for linen, plates, glassware, chairs, napkins, and other items from actual suppliers, each having its own realistic 2D and 3D layouts.
In addition, you'll have no trouble adding many decorations to the events using the provided 3D models of products from in-app providers. Use the fixed rigging points from certain venues or create your own to start designing the 3D diagrams.
With more than 100 different products from real suppliers for both indoor and outdoor settings, each having its own patterns and variations, you'll have no trouble designing your 3D layouts. Simply select the right ones for certain parties, get-togethers, meetings, and other events.
And for those of you who are interested, the 3D design software can change the flooring with unique options for dance floors, staging, carpets, and others. Always use the right flooring to match your design themes and the enabled objects.
In addition, you can use custom objects and props for your specific events by inquiring about the product suppliers and venue owners or creating and loading up your own 3D product designs. Thus, providing you with endless possibilities when handling the projects.
Depending on the scale of your events, it's possible to add or reduce the number of tables on the 3D layout. Here, the app will provide you with precise table numbers and guest counts, so you can effectively work on your diagrams.
The tables can be connected together using the simple Magnet feature in the 3D diagram designer software. And you are able to rotate objects to make sure that you have good flows in your designs.
To ensure a good composition for your diagram designs, it's important to enable good views for your guests. And with Designa, you can easily change the seat positions at each table and customize the seating numbers according to your certain preferences.
The same thing goes for the dimensions of the floor plan and distances between objects. Here, Designa will consistently provide you with in-depth details regarding the objects and props. And as the designer, you'll need to make sure that the space is adequate for patrons to move around easily.
Feel free to make your casual design operations in Designa since you can always make use of your simple copy-and-paste operations on the objects. And the multiple undo operations will allow you to freely work on your designs with complete peace of mind.
Enjoy easy collaboration with all parties

And to improve your design efficiency, the software provides users with the most collaborative platform for all involved parties to handle the 3D diagrams.
Here, it's possible for you to choose from more than 20 different first-class venues from Designa, which will immediately provide you with a real-life 3D environment for your layouts. Feel free to contact the venues and inquire about their assistance throughout the diagram projects.
In addition, it's possible to send your requests to the actual suppliers in Design for quotes and designs of your objects based on certain preferences.
Have no trouble asking collaborators to join you in your diagram projects and work together in Designa. Here, you can edit and refine your event designs using the provided features and tools in the app. Feel free to save your diagram designs privately or share them with others to demonstrate your ideas.
For those who don't have Diagram installed on their devices, it's always possible for you to simply export the designs in PDFs.
Here, the app lets you render your photorealistic images of 3D floor plans, actual diagrams, realistic products, lists of objects, and more. Thus, making it a lot easier when sharing your ideas with venue owners, suppliers, or customers.
Register now for FREE and start using Designa in seconds!
Create and view immersive designs in 3D
With the 3D diagram designer app, users are able to create unlimited templates and floor plan designs, which you can then save to your private collections or share publicly.
Designa will let you view your most immersive designs with its virtualizations, where you can dive into the spaces and move through your 3D showcases. The option will allow viewers to fully comprehend the design and its virtual settings.
In addition, the augmented reality styler will let you put things into perspective by simply enabling objects in real spaces. Always use the layout diagram 3D software to handle your design realizations.
With the most impressive 3D showcase, Designa will provide designers with amazing marketing materials, which can be used to quickly demonstrate your design ideas and promote the event planning businesses.
Wrap up
With a good 3d diagram designer, you can improve your design efficiency and the quality of your work. And speaking of which, Designa is definitely a great option for the job.
Here, the all-in-one 3D diagram designer will help you design your 3D layouts from scratch while providing you with plenty of customizations and supporting features. As a result, you can always enjoy using it on any of your projects and different 3D diagram designs.
Be sure to check out other articles from Designa's Blog regarding event planning tips and guides!