If you are planning your wedding reception, you want to make sure that it is memorable and unique. You don't want it to be just like everyone else's. Check out these creative wedding reception layout ideas to get started. With a little bit of imagination, you can create a space that your guests will love.
Wedding layout design can be pretty traditional, with most of the action happening in the centre of the room. But why not shake things up a bit and try something different? There are lots of creative ways to lay out your reception space, and Designa has got some ideas for you here. Read on to get inspired!
Things to consider when planning a wedding reception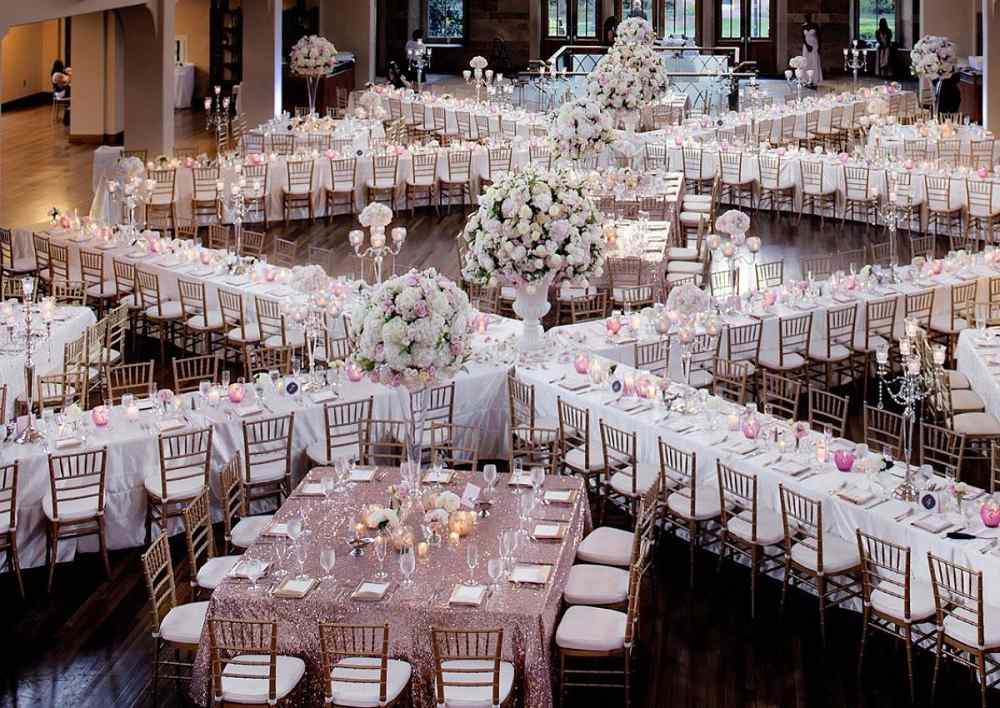 Manage Guest List
Before deciding on a venue, figure out how many guests you'll invite to your wedding. This will ensure that there is enough room for your guests, tables, waiters, the DJ, and a dance floor. Allow 25-30 square feet of space per guest as a general rule.
Keep Accessibility in Mind
When planning wedding reception layout ideas, it's important to keep accessibility in mind. Make sure there is enough room for guests to move around comfortably and that there are plenty of places to sit. If you're having a buffet-style reception, be sure to have enough space for people to line up and get their food. And if you have a dance floor, make sure there's enough room for everyone to move around. Knowing these 10 types of event suppliers will be of great assistance in guaranteeing a successful event for you.
Consider your staffing needs
When planning your wedding reception, you will need to consider your staffing needs. You will need to have staff available to help with setup and cleanup, as well as to serve food and drinks to guests. You will also need someone to manage the music and entertainment. If you have a band or DJ playing at your wedding, you will need someone to keep things on schedule and make sure the music is appropriate for the occasion.
Use groupings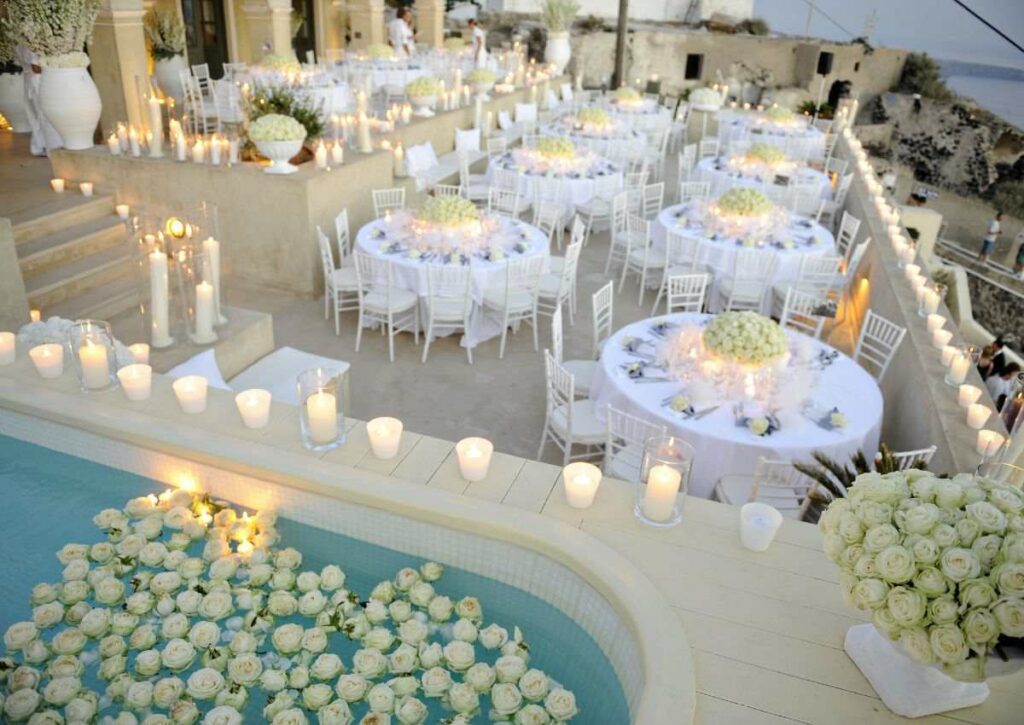 Step one is to begin grouping guests based on how you know them, such as family members, high school friends, college friends, work friends, and so on. This doesn't mean you have to seat them in groups, but it will give you an idea of who already knows each other and gets along.
Aside from grouping your guests based on how you know them, you can also consider their ages, interests, and backgrounds. Make everyone feel at ease by putting a mix of familiar and new faces at each table.
Create different atmospheres
If something is important to you or you want to incorporate some unique wedding ideas into your plans, go for it! Guests will always respond positively to anything unusual, entertaining, or clearly related to you. However, it can be beneficial to prepare a few people ahead of time so that they can show your other guests what to do or how to participate.
10+ Wedding reception layout ideas for floor plans
1. U-Shaped Layout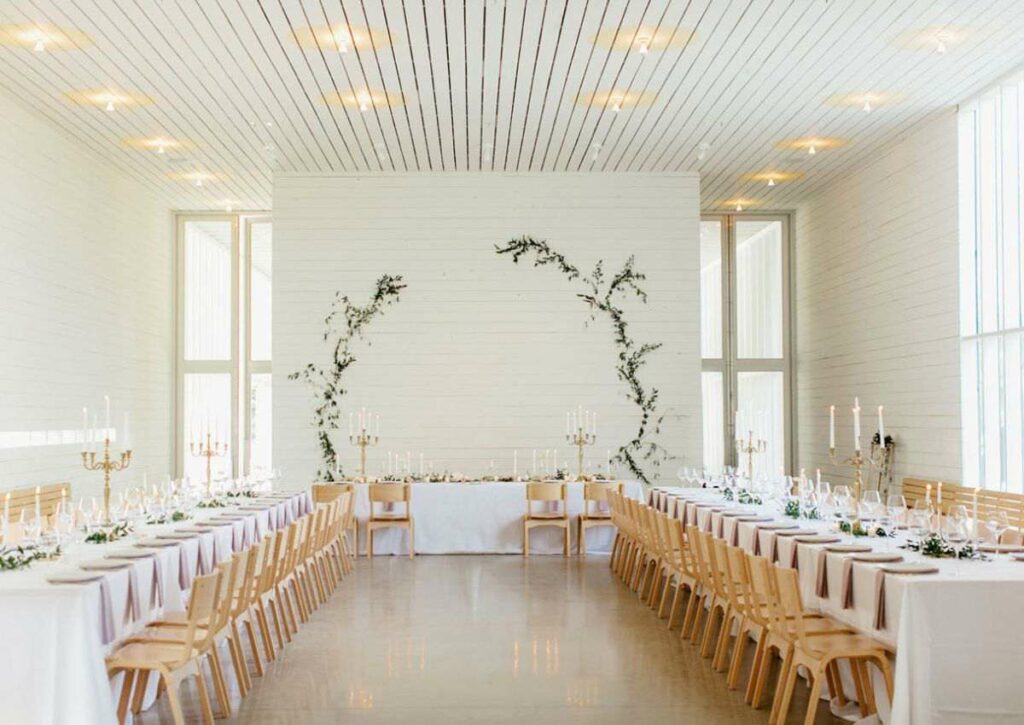 Try something out of the ordinary, like this u-shaped arrangement. From the head table, you and your wedding party will have a good view of everyone, and the long rows of chairs create a communal feel among your guests. This eye-catching design is perfect for intimate weddings (less than 100 guests).
2. End-to-End Banquet Tables
If you have a long and narrow venue, you can align rectangular banquet tables end-to-end around the room's perimeter. This layout maximizes space, making it one of the best wedding seating chart ideas for a large guest list. Smaller rectangular tables can be placed in the centre of the room for your wedding party or family members.
3. Uniform Rectangular Tables
The use of rectangular tables of the same size creates a clean, modern look. The symmetrical layout only enhances the overall appearance. This is one of the most adaptable wedding seating chart ideas, suitable for almost any style and guest count!
4. Tables on an Angle
We love this idea if you need to fit a lot of people into a small space. The long banquet tables are fashionable and functional, seating approximately 18 people each (compared to smaller round or square tables, which average eight people each). Because wedding chairs can take up a lot of floor space, try adding long benches to one side of each table to save space while also adding an unexpectedly cool look to your decor.
5. Freestyle Layout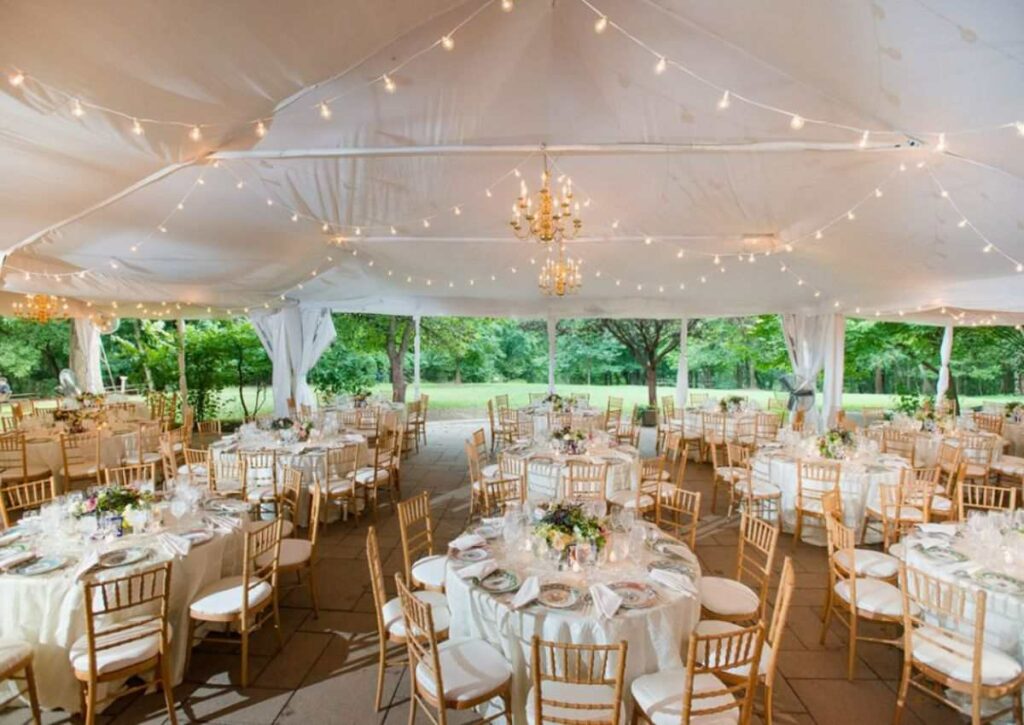 However, not all table layouts have to be symmetrical! This arrangement includes a large head table in the centre of the room, surrounded by smaller round guest tables. If you have a large wedding party (and each person is bringing a plus-one), the long rectangular table is ideal.
6. Tables Throughout Your Venue
If your venue has unique features, such as a pool, courtyard, or formal gardens, you can take advantage of them when designing your reception layout. It's an idea that will require a little more thought and planning, especially to avoid guests feeling like they're missing out on what's going on in the main space.
7. Circular Tables
This wedding seating chart design is one of the most classic options available. Circular tables are ideal for creating an elegant atmosphere at your event, and they are simple to arrange in both large and small spaces. You can stagger them like this to fit smaller venues or spread them out for a more dramatic effect.
8. Mix-and-Match Tables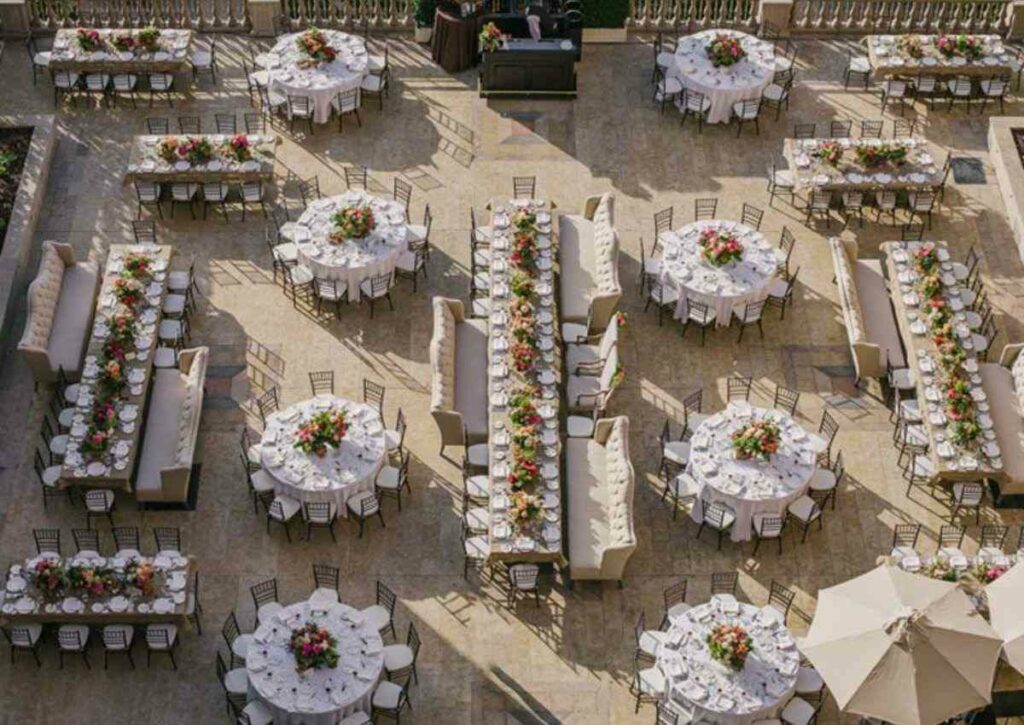 Can't decide whether to go with round or rectangular tables? You can have it both ways! A long head table in the centre of the room draws all eyes to you and ensures that no guest misses anything. This is a versatile wedding seating chart idea that can be used in almost any venue, whether it's a barn, ballroom, or country club.
9. Rotating Bride and Groom
You can rotate your courses by joining the various guest tables throughout the evening as an interactive alternative to a traditional sweetheart table (where you and your groom sit apart from everyone). It allows you to spend more quality time with your loved ones and creates a more intimate setting for your celebration.
10. Cocktail Reception Layout
Cocktail wedding reception seating may be your best bet if you want your reception to feel relaxed. Cocktail parties do not typically have assigned seating and encourage guests to mingle with one another. Provide high tables and stools in case your loved ones want to sit while eating and drinking.
Wrap up..
Whether you want a traditional format or something more unique, use these wedding reception layout ideas to wow your guests and make your big day even more special. Don't forget to add personal touches that reflect your style as a couple! If you need help with wedding planning, our team would be happy to assist you. See other useful articles from Designa's blog to get more ideas and wedding venues inspiration for the wedding day. Or check out this list of our 10 best free event floor plans online to plan out your wedding reception layout.