Are you looking forward to a fairy wedding? Choosing the perfect venue is an important part of planning a memorable wedding. If you are looking for a luxury venue, Designa has some recommendations from the following list of the most expensive wedding venues in Sydney.
InterContinental Sydney Double Bay
Location: 33 Cross St, Double Bay New South Wales 2028, Australia
The InterContinental Sydney Double Bay is well-known for being one of Sydney's most expensive wedding venues. It is close to Double Bay and the Sydney Mall. From the Rooftop Bar, you can access the best restaurants in Australia and see the city.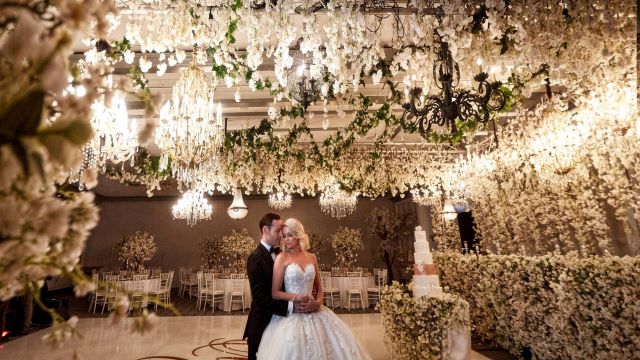 The InterContinental Sydney Double Bay has modern spaces including a ballroom, a wedding venue, an outdoor patio and a bar, ideal for elegant weddings. Furthermore, this restaurant offers 5-star catering for events with up to 360 guests. During the wedding ceremony, guests can stroll through the beautiful gardens or sip cocktails in the bar while taking in the breathtaking views.
Sofitel Sydney Wentworth
Location: 61/101 Phillip St, Sydney New South Wales 2000, Australia
Sofitel Sydney Wentworth is one of the most expensive wedding venues in the world and is located close to the center of Sydney. Also, the Sofitel Sydney Wentworth has beautiful architecture, splendid gardens, and a magnificent French-style ballroom. The elegant spaces are intended for high-end events with up to 980 guests.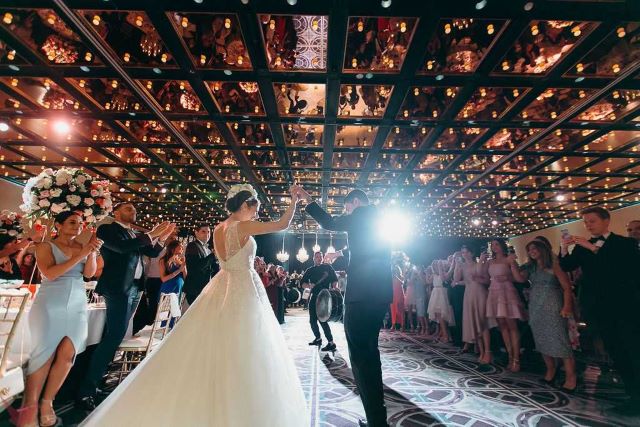 In addition, this hotel has a ballroom and a Wentworth anteroom with a large space suitable for grand parties. Outside is a lovely semi-circular courtyard with colorful flower beds, reminiscent of a fairy tale. Before the wedding day, this hotel's coordinator will work closely with each couple to design a one-of-a-kind wedding ceremony in their own style.
Plaza Ballroom
Location: 191 Collins St, Melbourne Victoria 3000, Australia
The Plaza Ballroom, with its Spanish Rococo architectural style, is one of Sydney's most expensive wedding venues. The area here can serve 150–1200 guests and can be flexibly arranged according to different requirements. They also offer dream wedding packages at discounted prices to couples.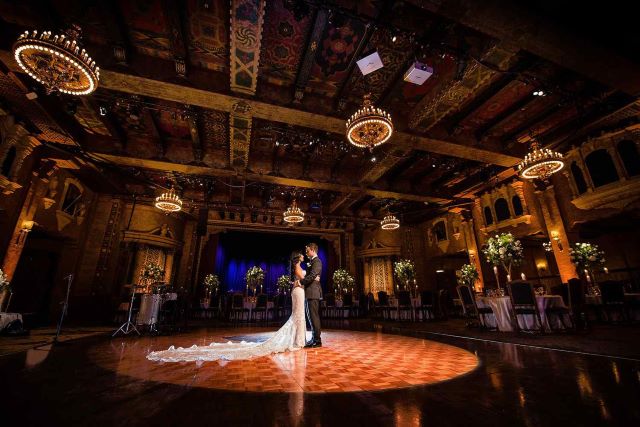 In addition, Plaza Ballroom's menu was designed by David Ricardo (of the Lucas Group) and features the finest wines. All of these factors contribute to a perfect wedding ceremony that leaves everyone satisfied. Couples can fully celebrate their wedding here with lavish cocktail parties and dance parties.
InterContinental Sydney
Location: 117 Macquarie St, Sydney New South Wales 2000, Australia
The InterContinental Sydney is a must-see for couples planning a grand fairy-tale wedding. This hotel is housed in a heritage-listed building in Circular Quay. Classical furniture and sandstone domes characterize the hotel's architecture.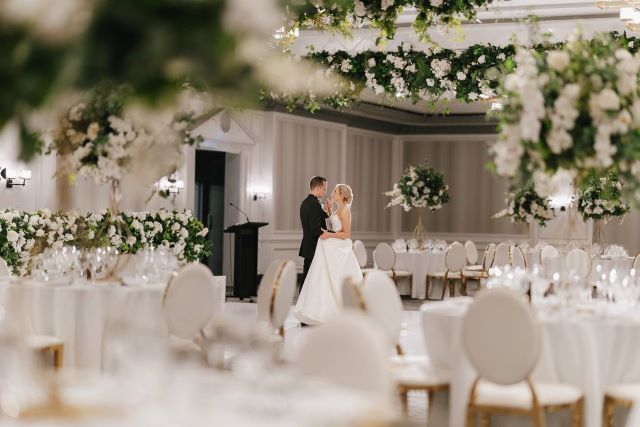 This venue has large spaces, including a ballroom and a grand seating area. The menu at the InterContinental Sydney is also inventive and delectable. Couples can request that a team of coordinators completely customize and design a special menu for their wedding.
Pier One Sydney
Location: Walsh Bay, 11 Hickson Rd, Sydney New South Wales 2000, Australia
Pier One Sydney is a riverside wedding venue with a 5-star rating. The hotel's location provides panoramic views of the picturesque Sydney Harbor. You can easily organize an outdoor party with a cool atmosphere and a stunning view of the sea from here.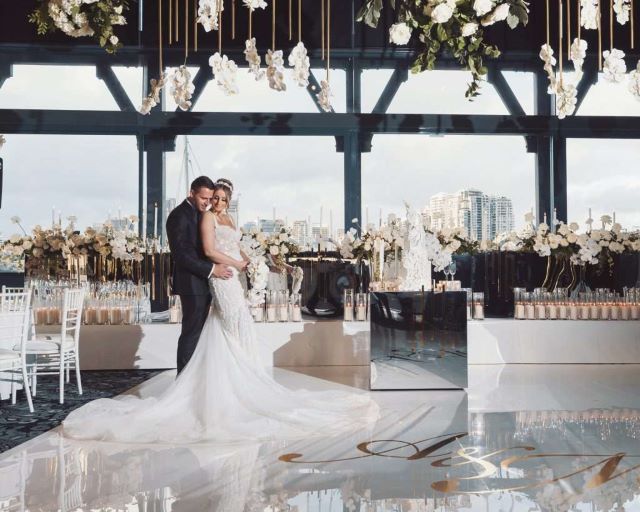 Couples can take countless beautiful wedding photos on the Sydney Harbor Pier pontoon or rent a yacht to travel while admiring the breathtaking sea views. Furthermore, the wedding ceremony room can accommodate up to 140-350 guests with plenty of natural light. Couples can use the space they have chosen for their wedding ceremony exclusively.
Dunbar House – One of The Most Expensive Wedding Venues In Sydney
Location: 9 Marine Parade, Watsons Bay New South Wales 2030, Australia
Dunbar House is an ideal location for an elegant, luxurious wedding. This is a historic castle in Sydney that dates back to the 1830s. In particular, Dunbar House has harbor views and wonderful grounds ideal for outdoor parties.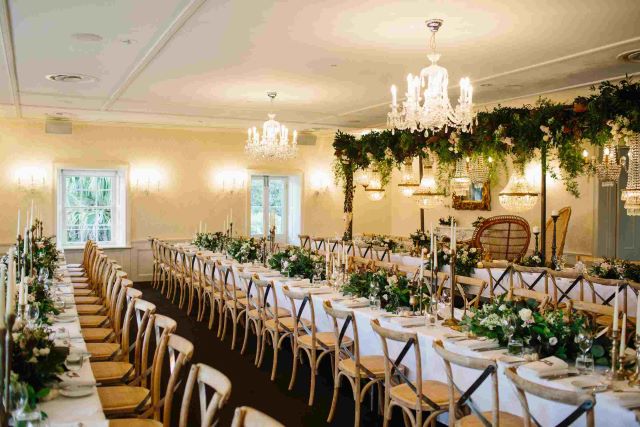 The plus point of Dunbar House is that it has event packages with discounts for couples. For all events, the restaurant's menu features a variety of cuisines ranging from Asian to Western and it only uses the freshest ingredients. For weddings, couples can take picturesque wedding photos on the campus of Dunbar House, which has soft and poetic light.
Sheraton Grand Sydney Hyde Park
Location: 161 Elizabeth St, Sydney New South Wales 2000, Australia
Sheraton Grand Sydney Hyde Park is one of Sydney's most sought-after wedding venues. The space here impresses with soaring ceilings, high windows for lots of natural light and a large ballroom for dream parties. The wedding ceremony rooms are beautifully arranged according to the wishes of the couple.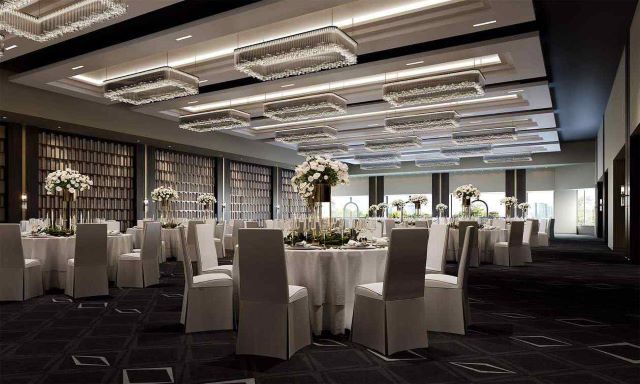 The Sheraton Grand Sydney Hyde Park management team has many years of experience managing simple wedding ceremonies to elaborate 5-star weddings. They also collaborate with Staging Connections to decorate and complete couples' weddings in their own unique style. In particular, this venue has 48 luxury suites available for guests to relax in before the wedding day.
William Inglis Hotel
Location: 155 Gov Macquarie Dr, Warwick Farm New South Wales 2170, Australia
The William Inglis hotel is located next to Warwick Farm racecourse, with views of the green lawn from various angles. It also has a classic design, a lobby and multiple suites for large events. Couples can select from a variety of wedding themes, and William Inglis will make their dreams come true.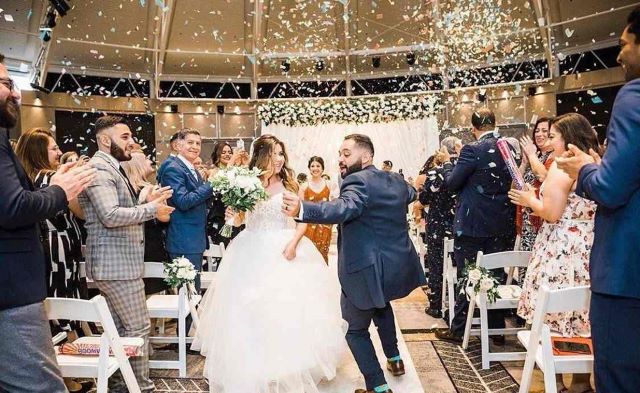 In addition, the William Inglis Hotel has three wedding venues, including The Arena, The Big Barn, and The Garden Pavilion. Each space can accommodate about 200-640 people. These beautiful spaces promise to allow couples to take beautiful photos inside the magnificent gardens.
Oatlands House
Location: 42 Bettington Rd, Oatlands New South Wales 2117, Australia
Oatlands House is a lovely mansion and an excellent location for wedding ceremonies. The site, which is about 5 acres in size, has well-kept vineyards and flower beds. From here, you can see the charming manor and feel the bright sunlight.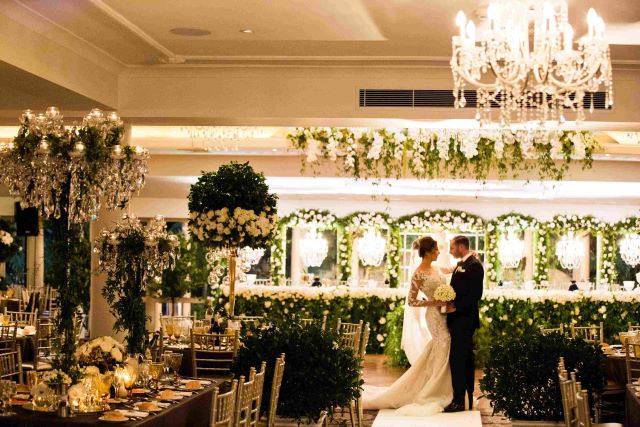 Oatlands House impresses with its bold, nostalgic architecture and splendid scenery, like a fairy tale. It has a total of ten event spaces that can accommodate up to 780 people, including a garden ballroom, a deck room, a rose suite, a Rebecca suite, an Elizabeth suite, and outdoor spaces. Event Couture's experienced stylists will assist couples in creating an impressive wedding in the style of their choice.
Waterview in Bicentennial Park
Location: Bicentennial Dr, Sydney Olympic Park New South Wales 2127, Australia
Waterview in Bicentennial Park, located on the outskirts of Homebush Bay, has many large windows that let in natural light. This is one of the most expensive wedding venues in Sydney and is very popular, with a capacity of 50–15,000 people.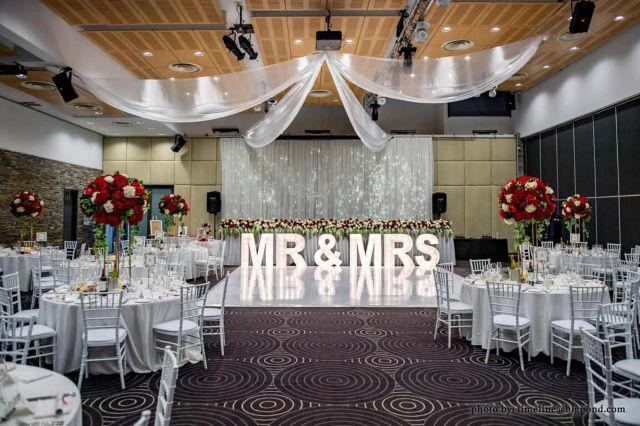 This site is approximately 40 hectares in size and is located in a peaceful and quiet park setting. There are also various event spaces available here, such as the Lake Room, Park Room and Bel Parco. Couples can rent out the entire venue and customize their wedding ceremony according to their wishes.
With the most expensive wedding venues in Sydney listed above, hopefully you can find the perfect venue for you. These locations promise to provide you with wonderful experiences similar to those found in a romantic fairy-tale wedding. But if you want something not grand-scheme, but simpler, more cozy types of weddings, check out our Blog Designa Studio for more information on other stunning but more affordable wedding plans.