A seating chart shows the exact places where certain people should be sitting at a wedding. Thus, allowing you to quickly organize the slots and avoid any disruptions during the event.
If you're looking for the best ideas for your wedding seating chart, then a seating chart wedding template will come in handy.
Feel free to check out the best options for your seating charts following these beautiful templates.
Autumn wedding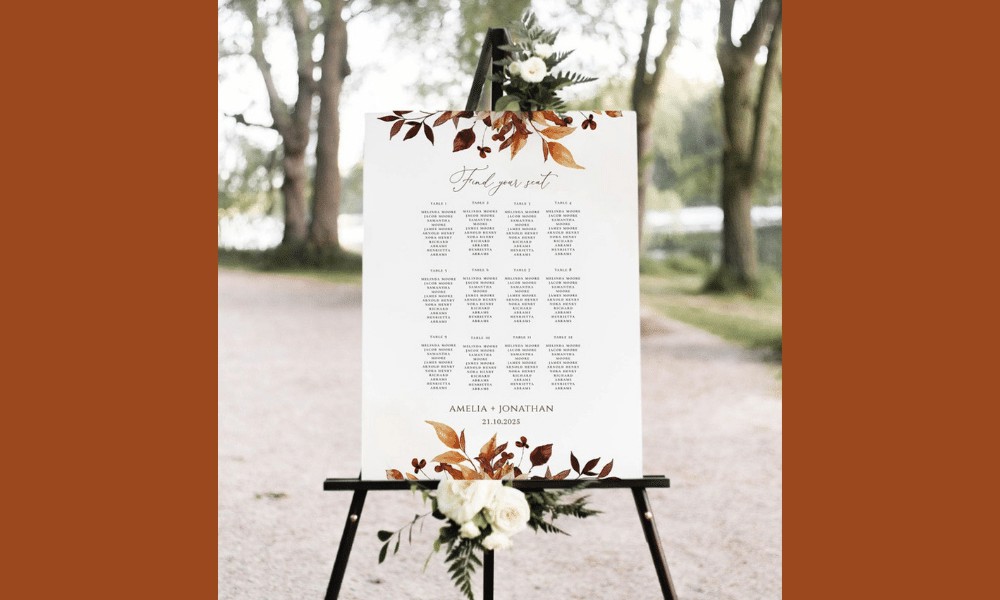 Autumn is the season of falling leaves, so it's best to enable your seating chart with light colours and simple texts. Choose to add your own autumn florals or leaves as stylistic decorations.
Depending on your preferences, you can have an abundance of lush greeneries or the simple colours of yellow as your main theme.
Once you decide on the template, feel free to consider the number of guests and your current setups to adjust the tables accordingly.
Make sure to have your seat chart printed in both digital and physical formats. And don't forget to have them in multiple sizes for more flexible uses.
Boho wedding
If you want a wedding that features a good combination of natural, rustic, and vintage styles, then boho is the style for you.
When creating or choosing a boho wedding seating chart, the two colours of beige and terracotta are the must-haves that you need to feature in your creative works.
Here, the interesting colour combinations allow your designs to feel natural and well-organized. In addition, you can have the stylistic and modern texts enabled for a more high-class impression.
Formal wedding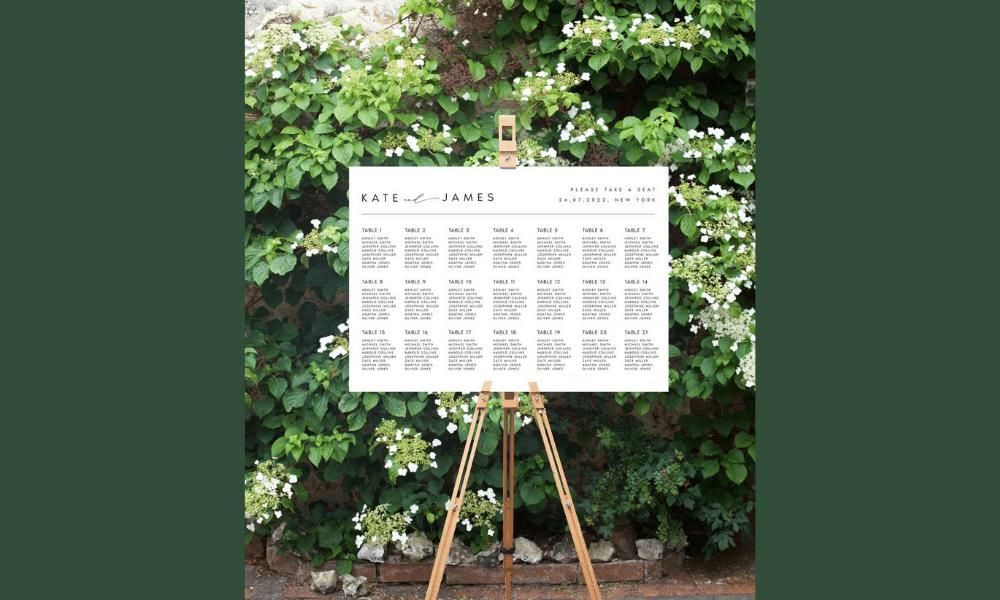 To create a formal design, your seating chart wedding template will need to have simple colours and a clean setup. Only provide visitors with enough information so they can quickly find their seats without getting confused.
Make sure to use formal fonts with modern texts and cleanly-organized sections. Avoid featuring any graphical designs on your chart. Only use formal text styles to help promote your design themes.
Garden wedding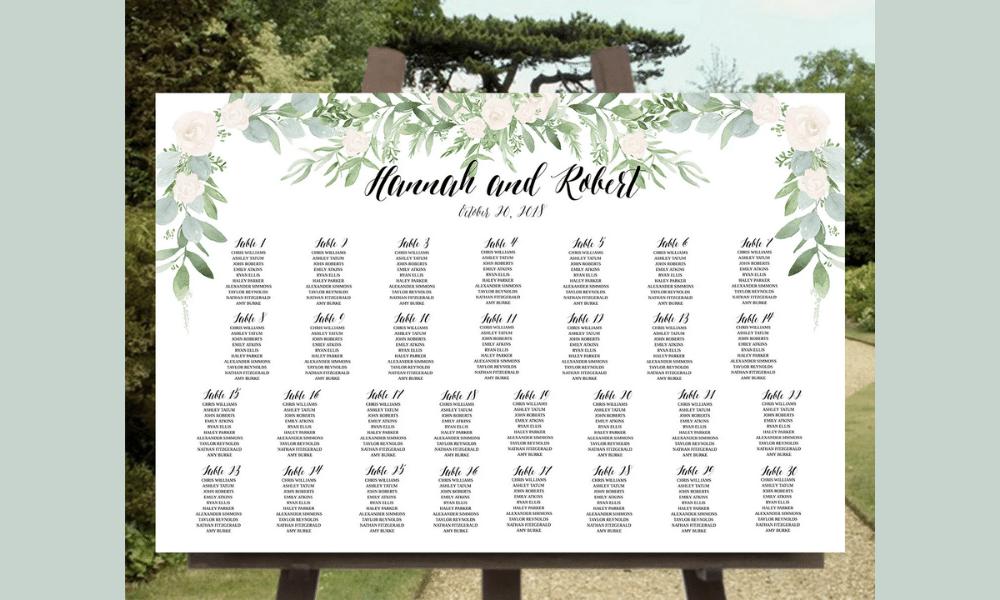 Interested in having yourself a garden of words for the wedding seating charts? Then you should always consider using natural fonts combined with stylistic garden-inspired designs for each table.
Don't forget to always enable wild florals or your favourite flowers and fruits in your design. And feel free to use real flowers and plants as design elements in relation to your garden wedding seating charts.
Modern wedding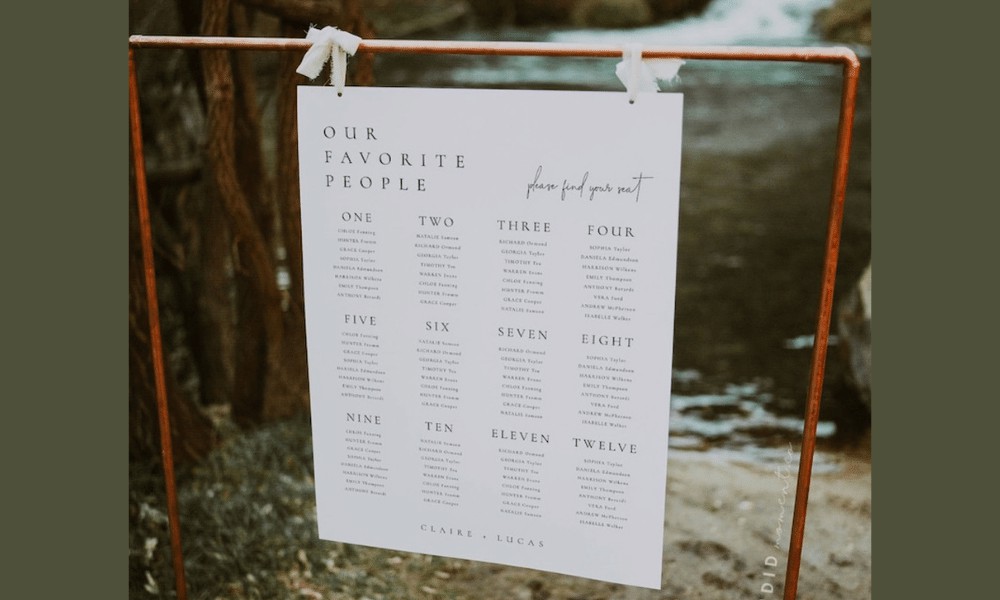 A modern wedding seating chart is like a formal one but with fewer elements. The key here is to apply minimalistic and material designs to your creative works.
Always use modern fonts with proper spacing and compositions of the different tables and names. Avoid using any graphical designs and only focus on delivering the messages to the readers.
Romantic wedding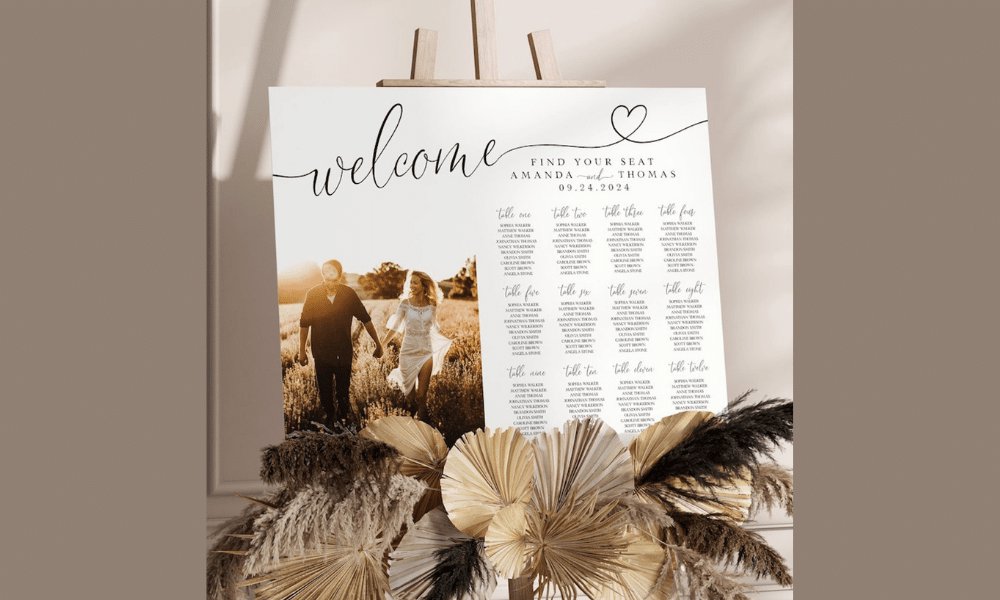 If you want to show the overall theme of your wedding via the chart, then using a romantic seating chart wedding template is a good idea.
Here, the design should have the most beautiful fonts and romantic design elements enabled. You can have pictures of you and your partners showing your affection in the most romantic ways.
And feel free to write your romantic lines to each other to make the wedding chart a lot more fabulous.
Rustic wedding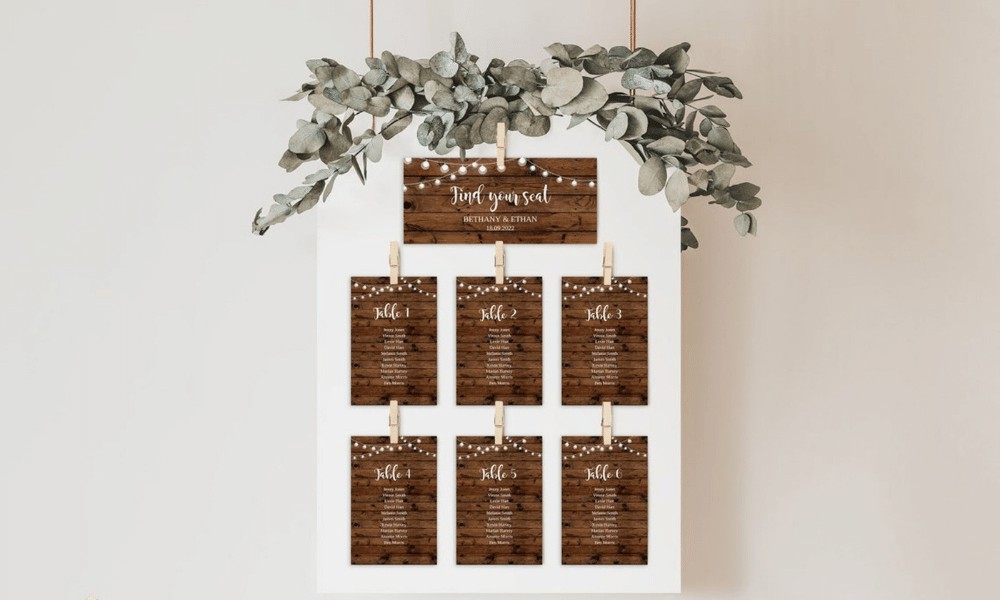 For this particular wedding style, a wooden board would make a better medium for your seating chart. Although you can still use printable materials with the same design if you don't have the real thing.
The most important part is to make everyone feel the rustic theme and stylistic designs through your clever uses of texts and chart elements. Always have slight decorations but never do they outshine the main rustic designs.
Spring wedding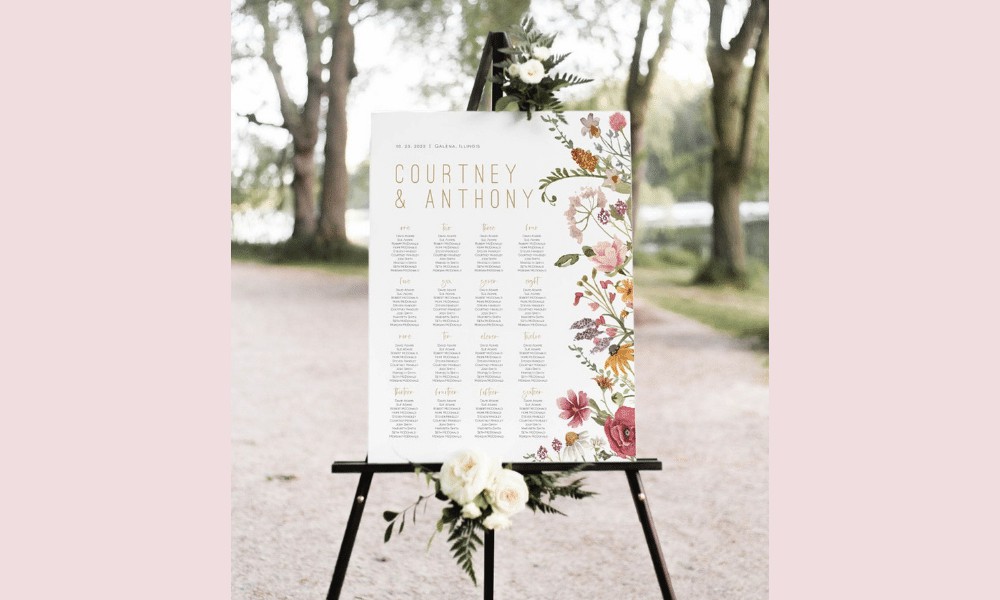 Spring is the season of flowers, so never forget to feature the most beautiful florals on your seating chart, and always use colourful options instead of plain flowers.
You can elevate your designs by using real flowers as decorations for your chart. But don't overdo it to avoid distracting the visitors' eyes from the main event.
In addition, also be free with your choice of stylistic fonts and their formatting to match the theme of the season. And enjoy using multiple colours to make your seating chart wedding template a lot more impressive.
Summer wedding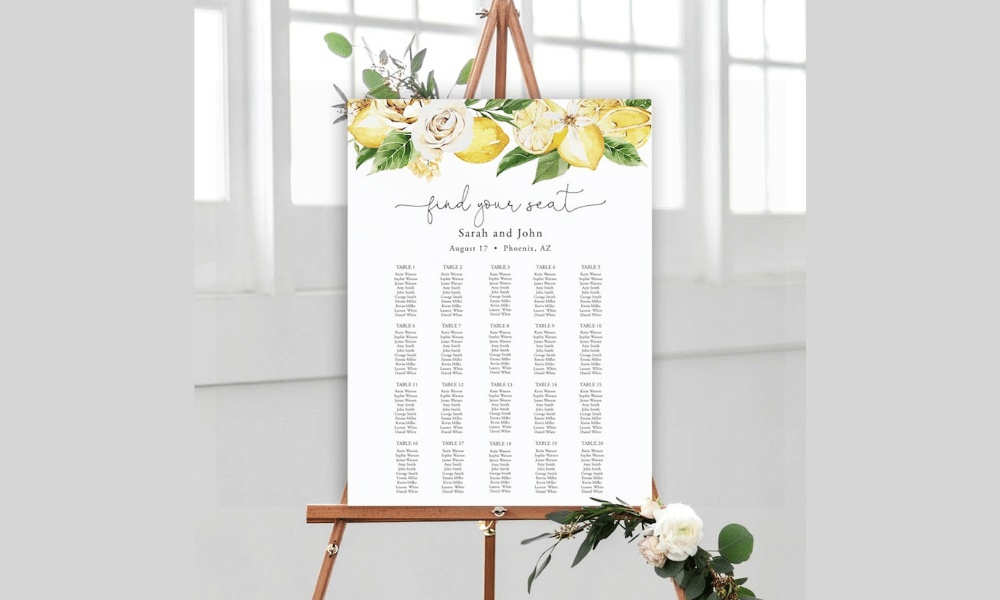 Just like with the spring designs, your summer wedding seating charts need to have the spirits of the season. And by that, I mean to have a lot of floors. Don't forget to also feature seasonal fruits that can complement your designs.
Feel free to make your chart template as colourful as it can be. Just make sure that you keep the designs on the edges to leave room for the actual seating tables and names.
Winter wedding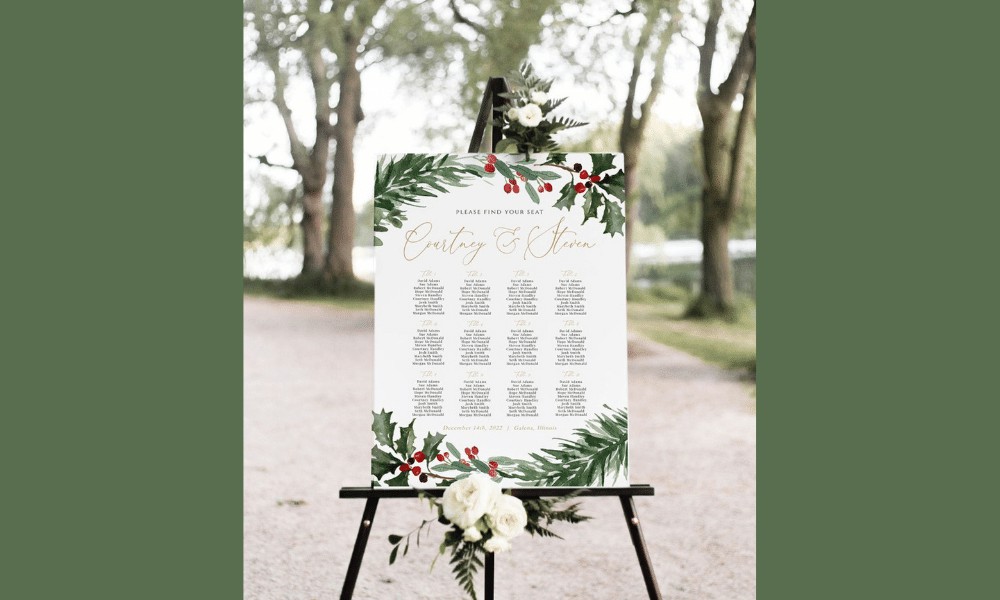 Depending on the time you're getting married in the winter, you can have simple winter-themed templates with the simple colours of black, white, and blue. Or if the event is near Christmas, then the colours of red and green will also give your wedding the spirit of the holiday.
Traditional wedding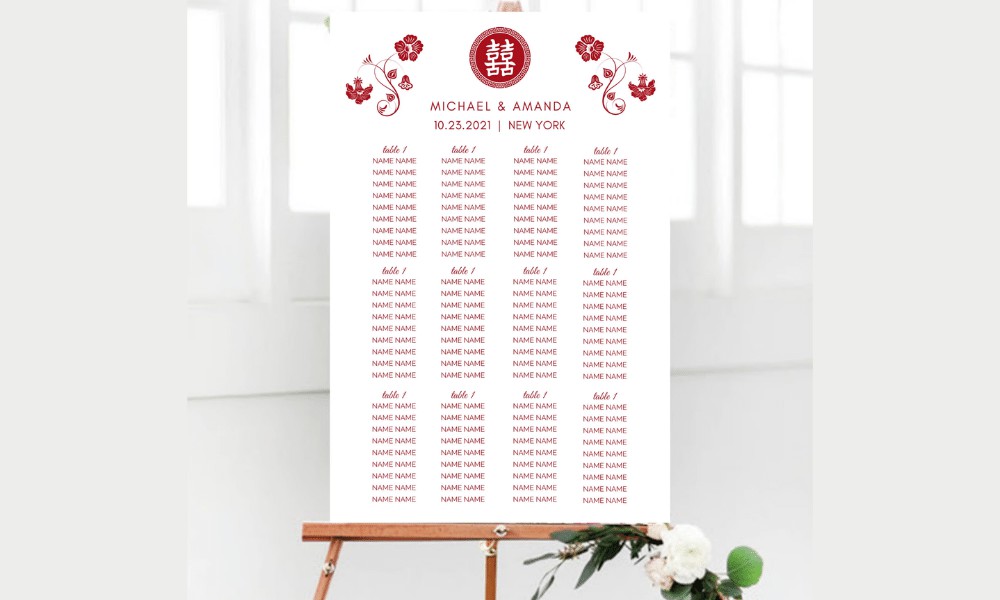 Your traditional weddings will require certain unique traits and characteristics, especially if you wish to show your culture.
Don't be afraid to add your own elements of ethnic or cultural groups into the designs to make your template a lot more interesting and unique.
If you're struggling with the ideas for your seating chart wedding template designs, then this post will certainly come in handy. By following the general guidelines for each wedding style, you can get a good idea of what to expect from your personal designs.
Dont' forget to check out other articles from Designa to best prepare for your upcoming event.