Weddings are one of the most important events in a person's life. So, it needs to be done properly. And if you want to create the best wedding with you being its planner, then Designa is definitely going to help.
The following guides will provide steps by step instructions for hosting the best weddings. All the while introducing you to this free 3d wedding design software of Designa and how you can use its many features to improve your experiences.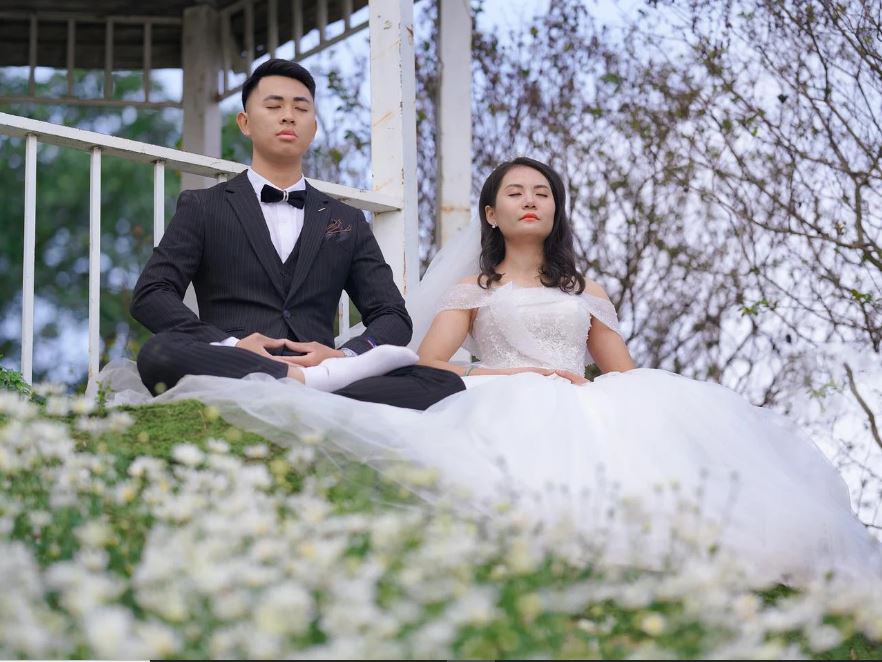 Choose your budgets
First thing first, you'll need to decide on a budget when you start planning your wedding since it'll give you a clear indication of which scale you want the event to be, where you can host your event, and what preparations you can make without breaking the bank.
Always remember that it doesn't take a whole lot of money to plan for a perfect wedding. But your numbers must be adequate, depending on the types of events that you want.
Use a free 3d wedding design software
When designing and planning for a wedding, it's important that you have clear visualisations of your different ideas and setups. Hence, it's always recommended to use 3d wedding design software free, which will allow you to approach the design processes more efficiently.
With these useful tools for visualisation, you can fully comprehend the design ideas, floor plans, and complete setups of the wedding. Have no trouble creating your designs and adding new elements as you progress.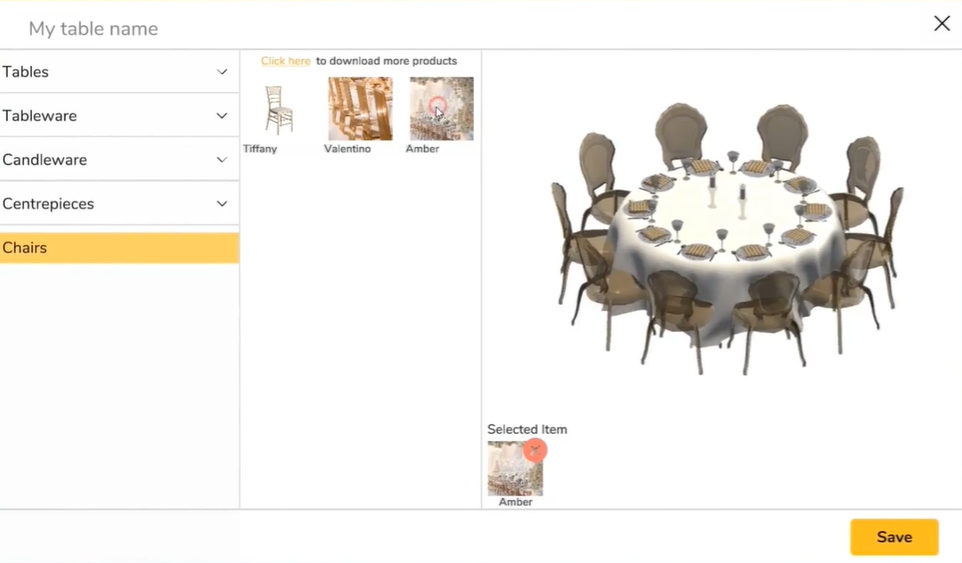 And speaking of which, Designa is currently a great option for wedding planners if you're trying to host the best events, as it comes with adequate 3D design tools and many useful options to help you in other tasks.
Read more: Top 5 Free Online Floor Plan Creator Software
Get inspired with many wedding ideas
The next step when designing your wedding is to get ideas. Normally, you can always look up online or ask your friends for their opinions. However, with countless options and none of them seem to match your interests, it would be a better idea to go with Designa instead.
Here, the convenient design tool allows mobile users to get inspired by their many wedding ideas from the most creative minds.
Simply browse the many entries in the app, which will provide you inspirations for weddings and other event types. Take a look at the most design concepts and choose the one that you like the most. Decide on your wedding concepts and designs, then continue to the next step.
Choose your venues
It's time to think of a certain location where you wish to host your weddings and apply your certain design concepts. Here, you'll need to make sure that the place fits your budget and can provide you with the best settings for various wedding themes and incredible setups.
With the 3d wedding design software of Designa, users are introduced to many authentic venues that were verified by their team of dedicated wedding planners, who will make sure that your important events can happen accordingly.
So, if you don't trust online advertisements and can't have the time to visit the place right away, then using Designa to browse the lists of reliable venues is always a viable option.
Find your suppliers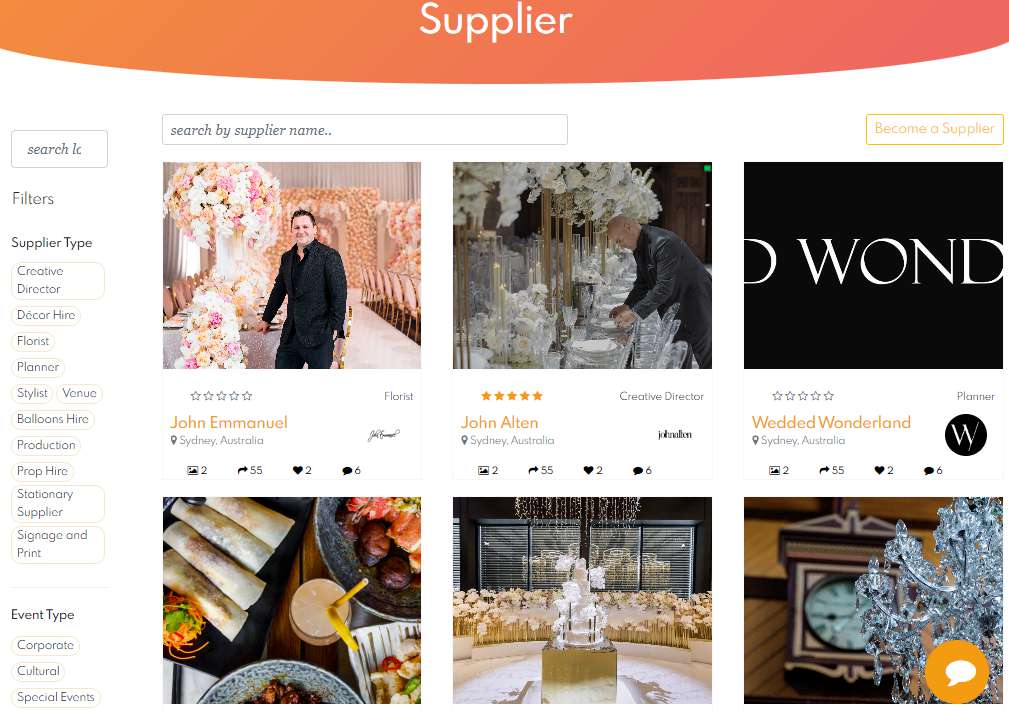 With your venue ready, the next step would be to find good suppliers for all your wedding preparations. Here, people will need a creative director to help them with planning and designing the events according to their certain preferences.
Décor, balloon, and prop hires are needed to make sure that you have all the design components readied for the wedding. Get your florist to decorate the wedding with beautiful flowers.
And don't forget about the stationary supplier and production manager, who will make sure that everything is happening according to plans in the background.
Select cool pieces of decorations
Following the venues and product suppliers, a trusted design agency or stylist is needed to fully decorate the wedding with different themes and concepts.
And if you're already using Designa, the process should be extremely easy, as the free wedding reception design software can provide you with beautiful pieces of decors and design props in different themes and categories.
Stay connected to your wedding planners
Once you have things start falling into place, it's important to keep them going accordingly. And to do this, you'll need to stay connected to all your venues, suppliers, and hires for the wedding.
In Designa, users will have the option to directly communicate with their service providers from the app. Hence, you'll definitely find the free 3d wedding design software extremely convenient. All you need is to enter the app and message or call your hires to make sure that things are going well.
Work on your rehearsals
Once you finish preparing for the event, it's highly recommended that you host a wedding rehearsal to make sure that things are well prepared and everyone knows what they'll be doing.
Here, you can finally agree with your service providers, wedding planners, and family members on the set-up and management of the wedding. Use Designa to review your floor planning ideas, choices of venues and decors, and confirm all the setups with all contacts via the app.
Time to get married!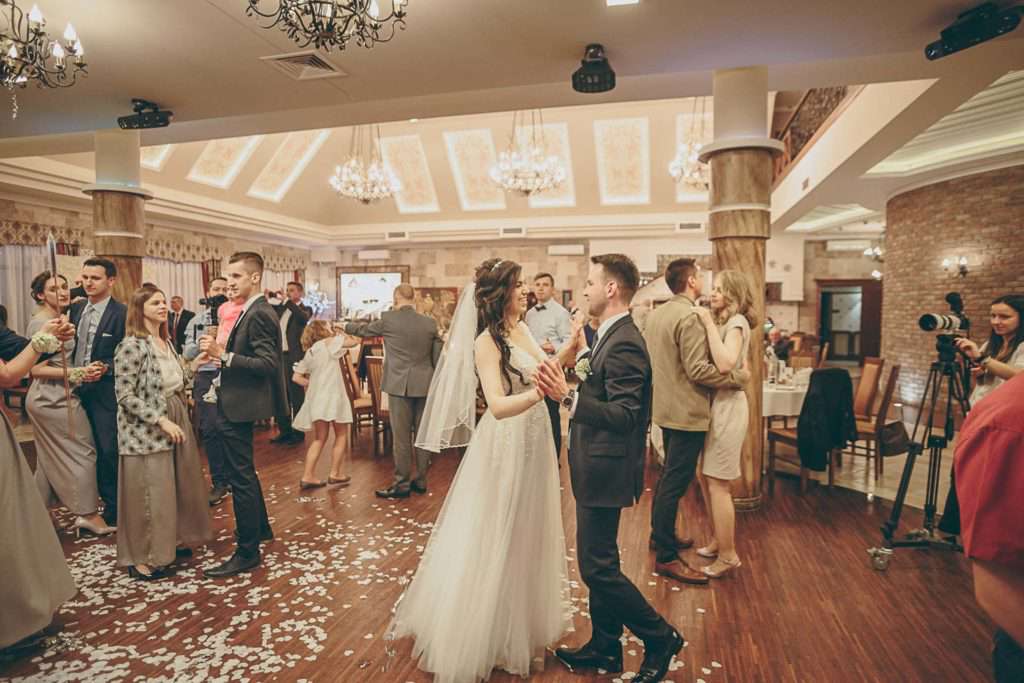 And everything all comes to this one important moment of the wedding, where you exchange vows with your significant partner under the witness of your families and friends. With all the preparations being done properly, especially with the help of Designa, you won't be having any issues on this day.
Conclusion
Wedding preparations are not easy as they look and usually take a lot of effort. So, hopefully, the provided steps can help you break down the process and target your wedding plans more effectively. And of course, with the free 3d wedding design software of Designa being extremely helpful, we always recommend you use it for planning and designing the perfect weddings. Don't forget to check out our Blog Designa for more interesting articles on event planning.