We all enjoy a good cocktail party, so why not plan one for your wedding?
When I ask couples what they like best about weddings, it's always a cocktail hour and the dance party portion of the night, so why not have that all night?
The atmosphere, interaction, and vibe created by a well-executed cocktail-style reception can mean the difference between your wedding blending in or standing out amongst the crowd.
In this post, Designa would like to show you some tips for having an excellent cocktail wedding reception layout and some of the best venues in Australia for your choices.
How to plan a cocktail wedding reception layout
Here are the top cocktail wedding planning tips to help you rock your wedding day!
The Space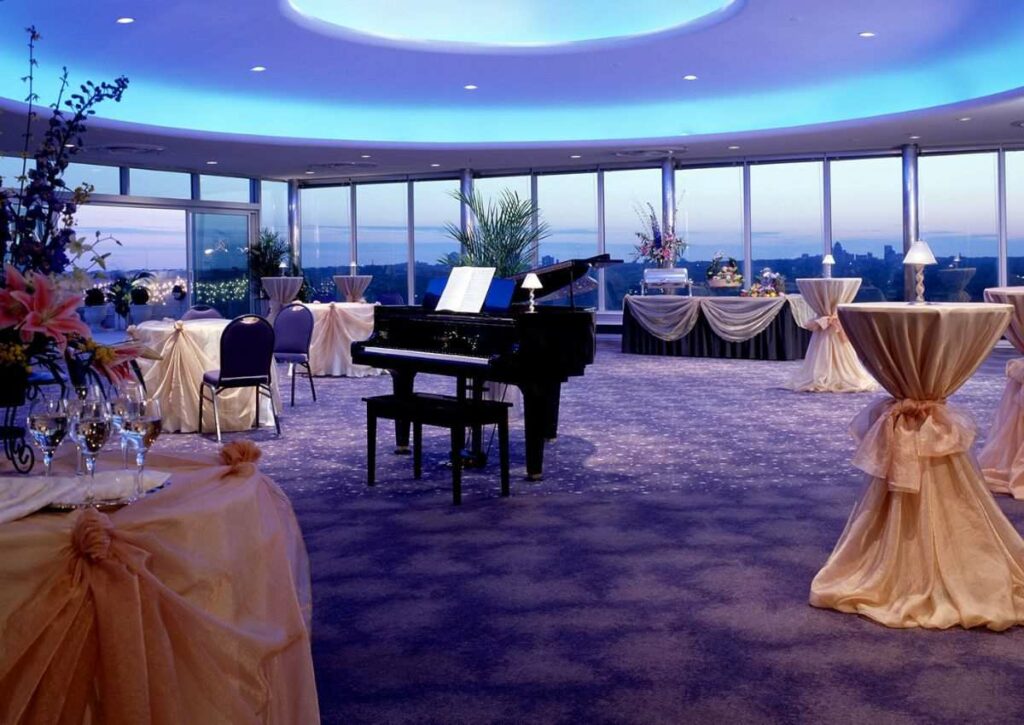 Learning how to work the space, wedding venue, or even restaurant you have chosen is necessary. If you haven't found a venue yet, get a sense of how you want the reception to flow. Then, based on the space you'll be working with, we'd usually start with a very rough draft of the floor plan. You can then plan and design accordingly.
If you add lounge furniture, it will most likely take up more space than a regular table, as well as delivering them (does your venue have a loading dock or access? ); this is important because you will also have to consider the delivery, set-up, and pick-up fees.
If you intend to have a dancefloor, you should first determine how much space you have – you don't want the space to appear empty.
The Seating
For your cocktail wedding reception layout, add 10-20% more seating. Remember that guests will form their own groups, which you will have no control over because there will be no assigned seating. Having extra space or an area where they can hang out will aid in crowd control.
You can label an "area" so that it can be reserved for specific guests if you want to have specific seating areas for your immediate family and your wedding party.
The Set-Up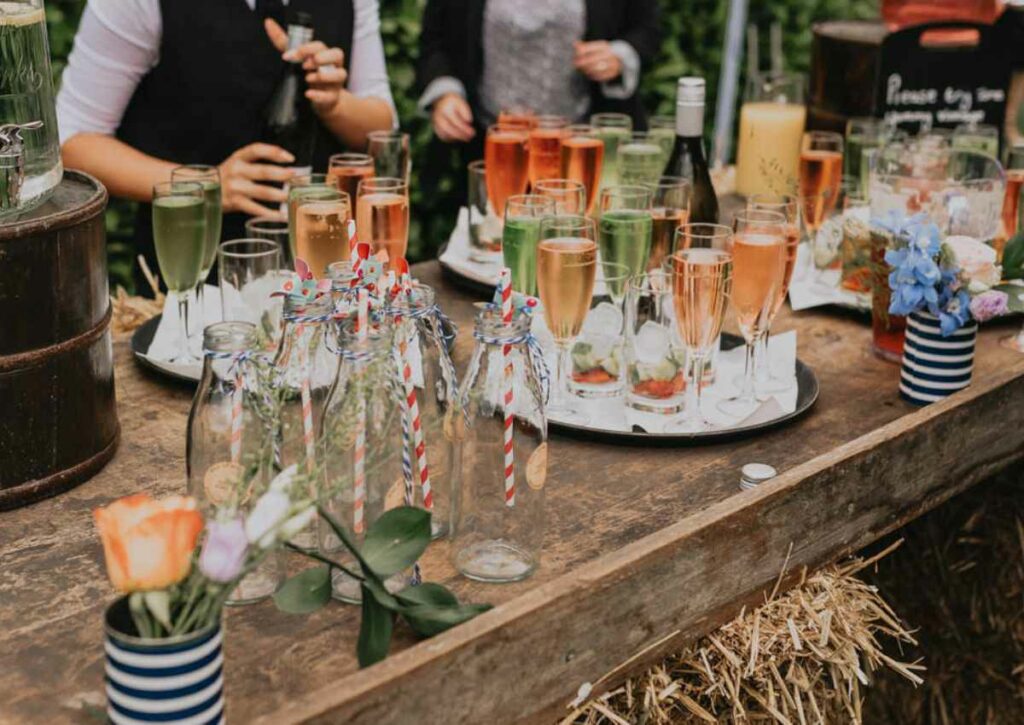 Cocktail/high-top tables are, of course, required for your cocktail wedding reception layout. However, because the entire wedding will be cocktail-style, giving your guests options and great comfort is essential! Allow them to walk around and choose where they want to sit and hang out.
Mix cocktail/high-top tables with cushioned bar stools and comfortable lounge seating with tables. If you expect some elderly guests, we recommend adding a few regular tables or even using it as a "grandparents" and "kids" table.
Remember to include accent decor in your seating areas. Decor and flowers do not have to be elaborate, but they are important in setting the tone for the wedding.
The Bar
Consider installing 2-3 bars (a minimalist bar or even a DIY bar!). Because there is no assigned seating, some guests may spend the majority of their time at the bar.
If you decide to make your own signature cocktail, make it quick and simple. A minimalist bar (wine, beer, and a few liquor/custom cocktails) reduces prep time and, as a result, avoids line-ups.
Another option is to place beer/wine pack buckets around the lounge area. This allows them to reach for their drink without having to stand or line up.
The Timeline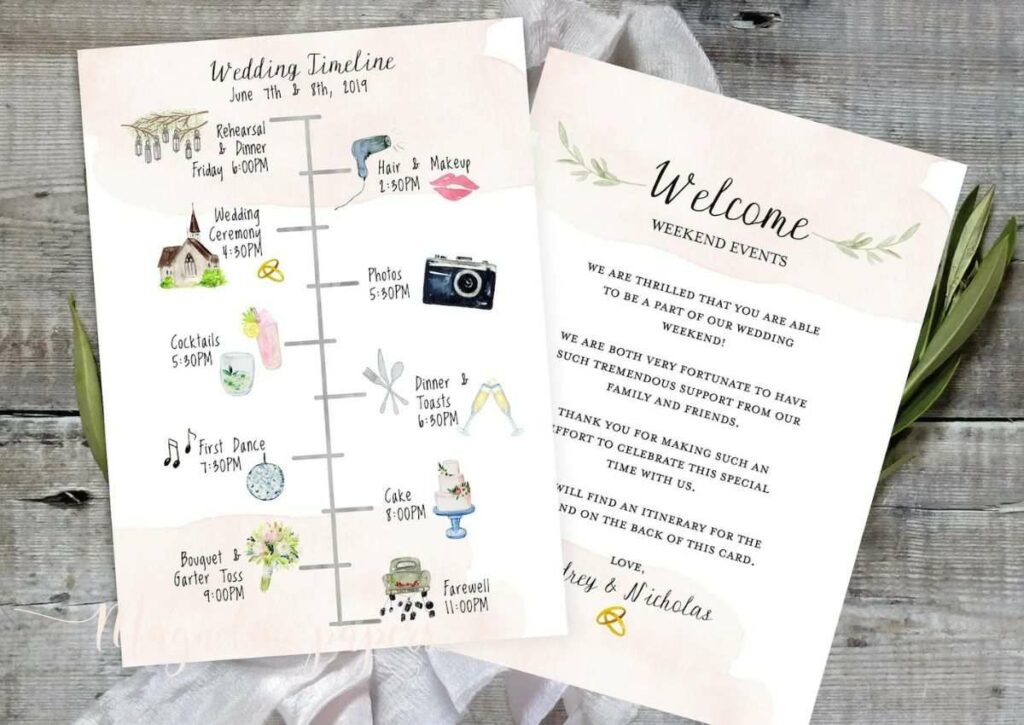 The inclusion of this timeline in your invitation or on your website will assist your guests in better planning. In addition, mentioning that it is a cocktail wedding will raise expectations. For example, they may want to eat a light meal before attending your wedding, or they may want to "pre-drink" somewhere before attending your wedding.
Giving your guests a heads-up on what to expect will allow them to better plan their day and be more involved and present at your wedding.
Top 5 cocktail wedding venues in Australia
1. Cloudland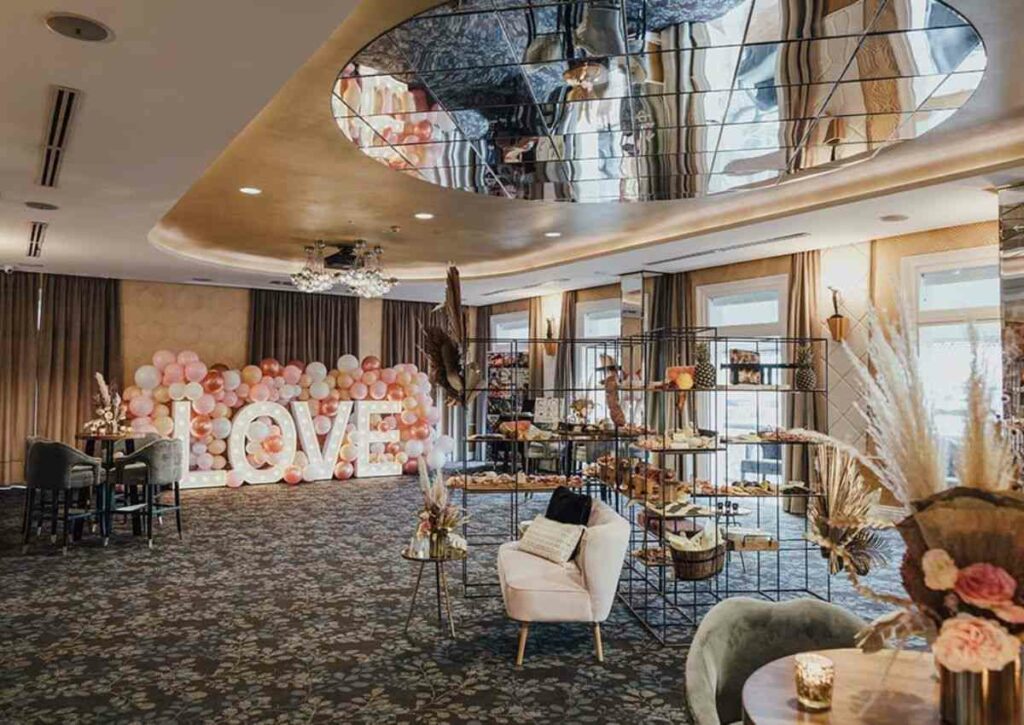 We cannot recommend Cloudland highly enough if you're looking for a cocktail wedding venue Brisbane that will take your breath away. This amazing wedding venue is well-known among Brisbane couples for its lush indoor garden and waterfall, sparkling chandeliers, hanging love seats, glass balconies, and industrial spiral staircase – all of which your photographer will make the most of.
Packages are tailored to your specific needs and budget, ensuring that no two weddings at Cloudland are alike.
Address: 641 Ann Street, Fortitude Valley, Queensland
2. Moda Events Portside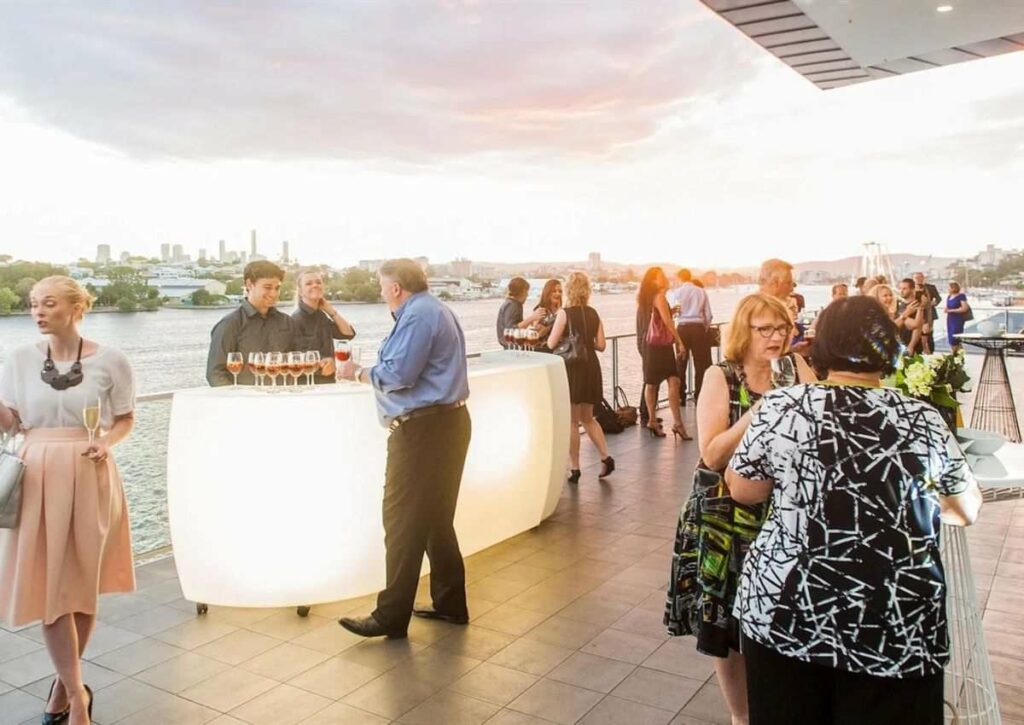 Moda Events Portside is ideal for those planning a cocktail wedding. This incredible venue, located on the top level of Portside Wharf in Hamilton, is best known for its river and city views, tailored wedding packages, and award-winning catering.
The reception room serves as a blank canvas for couples to design their dream wedding within the contemporary-styled venue.
Address: Level 2, Portside Wharf, 39 Hercules Street Hamilton, Brisbane 4007
3. Riverlife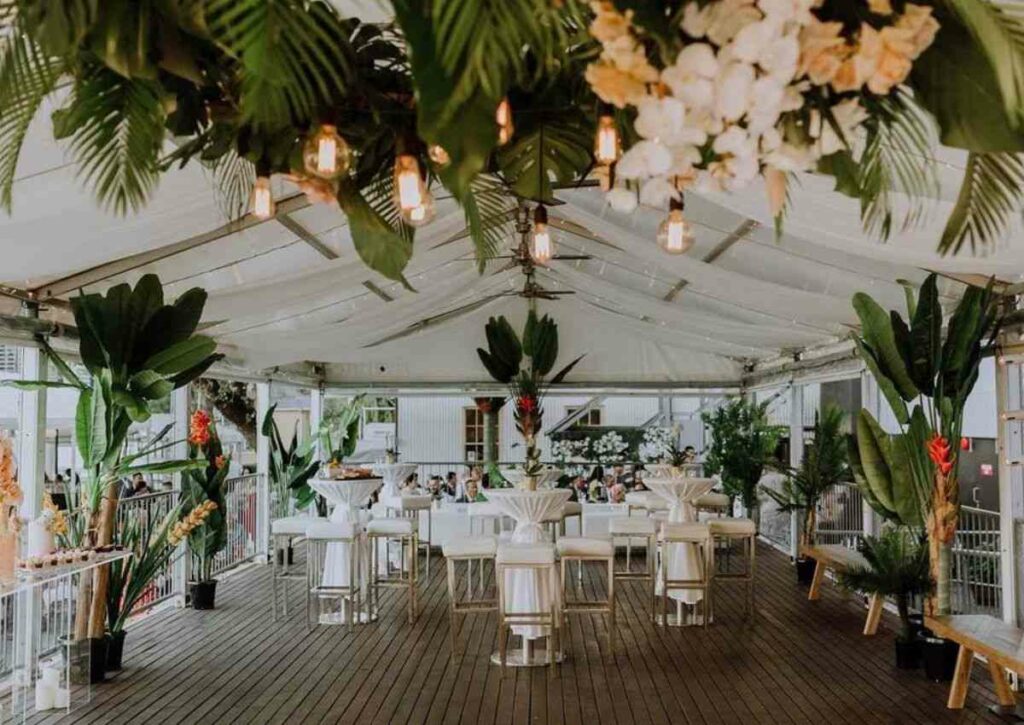 Riverlife is one of the best cocktail wedding venues Brisbane has to offer, as recommended by Easy Weddings customers. This popular Brisbane venue offers breathtaking river and city views, four distinct waterfront venues, and a heritage-listed function room, as well as numerous photo opportunities nearby.
Riverlife welcomes both intimate and large weddings, catering to those celebrating with just their closest friends and family as well as those with up to 800 guests. You'll have a fantastic wedding experience here.
Address: PO Box 15555, Kangaroo Point, Queensland
4. The Landing at Dockside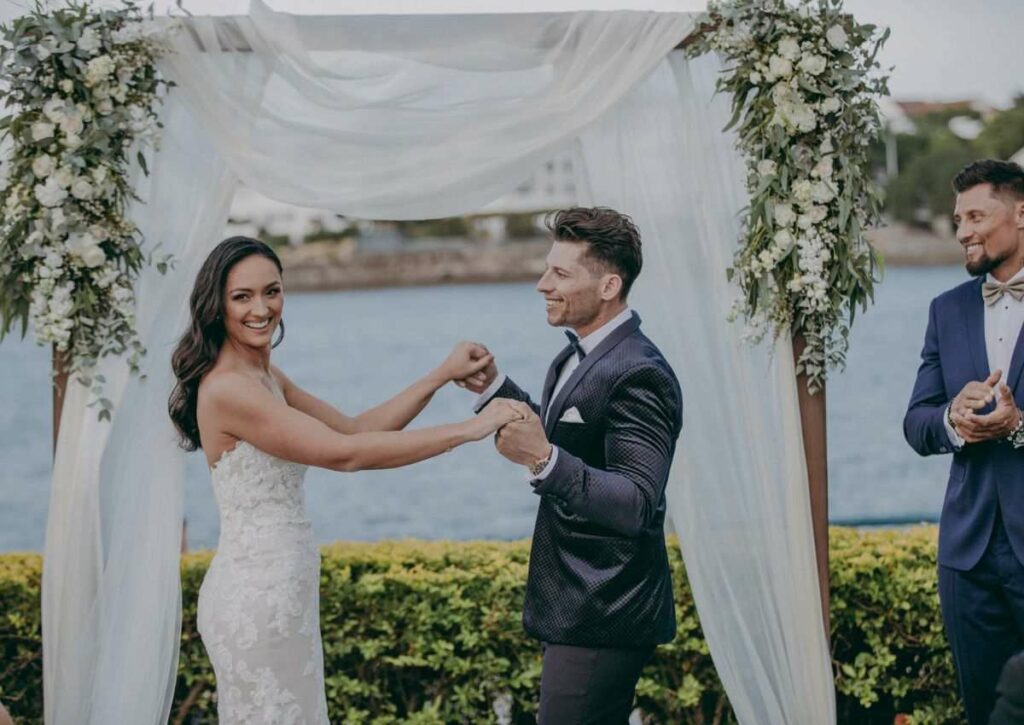 The Landing at Dockside is a favorite among Brisbane couples. This award-winning wedding and function venue is best known for its breathtaking River River and Dockside Marina views, cutting-edge function facilities, and premium five-star catering.
The Landing at Dockside welcomes both seated and cocktail receptions, with three versatile function rooms catering for up to 1500 guests. Whatever you have in mind for your special day, The Landing at Dockside's dedicated events team will make it everything you hoped and dreamed it would be.
Address: 44 Ferry Street, Kangaroo Point, Queensland
5. Sandstone Point Hotel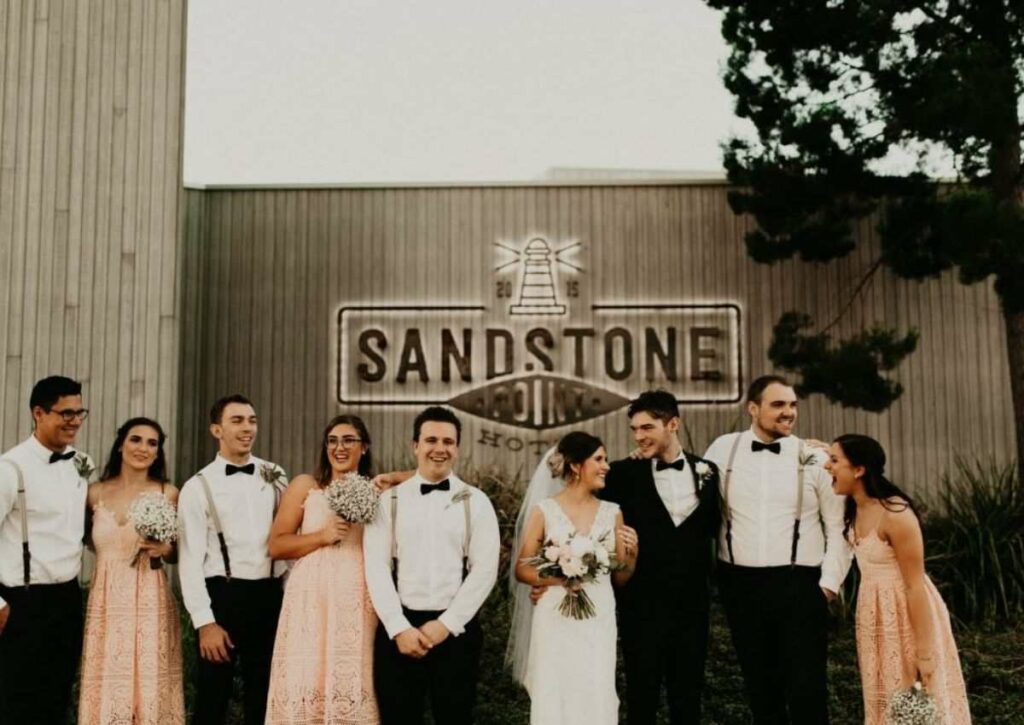 Sandstone Point Hotel is ideal for couples looking for an elegant cocktail party. This venue has 300 meters of unobstructed water frontage, which your photographer will appreciate!
It has four on-site ceremony areas, four function rooms to choose from, and an exclusive deck for pre-dinner drinks and canapes. What more could you want? We promise you'll fall in love. Address: 1800 Bribie Island Road, Sandstone Point, Queensland
Conclusion
Are you planning an unforgettable wedding reception for 2022? If so, consider a cocktail wedding reception! This type of event is stylish and modern, and it provides guests with plenty of opportunities to socialize. We've listed five of our favourite ideas for hosting a cocktail wedding reception above. Be sure to check out the venues we've included as well – they're perfect for this type of event! Visit Designa Studio for more inspiration about wedding decorations and venues! Or check out our Blog for more ideas and tips regarding wedding planning.