Looking for coastal wedding venues NSW will be a bit challenging for couples because there will be so many choices of qualified waterfront wedding venues NSW that will make them a little confused and considered.
Beautiful romantic beaches are always ideal for couples. Beach weddings are becoming increasingly popular these days. Especially the South Coast of New South Wales has long been a popular wedding destination, and we can see why!
It is a beautiful and convenient spot to give all of your guests a weekend away, and it is only a few hours to drive from Sydney. The beaches and coastal areas are beautiful and complemented by the natural beauty of the native bushland and the quirkiness of the towns scattered throughout the region.
They know what they're doing on New South Wales Southern Coast. Whether you want a beach or country wedding, something gorgeously vintage or glamorously modern, your dreams will come true here.
In this article, Designa would like to show you all the best coastal wedding venues NSW for you to create an unforgettable wedding.
Best Coastal Wedding Venues NSW for Dream Weddings
Mollymook Beachside Weddings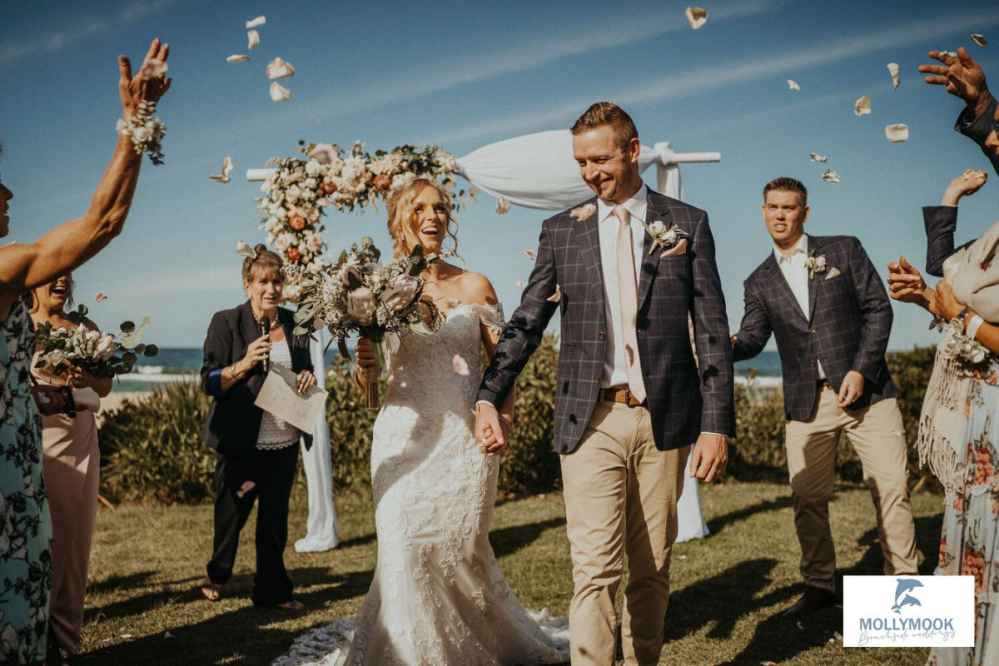 This is one of the unique coastal wedding venues NSW where you can celebrate the most important day of your life by the sea, with idyllic Mollymook Beach as the perfect backdrop.
Their dedicated wedding space is right on the oceanfront, with panoramic views of the seascape stretching out across the horizon.
The sunset on Mollymook Beach is truly breathtaking, and the feature window that runs the length of the room will allow your guests to marvel at the view.
With winter, weekday, and even Friday wedding specials, as well as flexible packages that can include decorations, you have plenty of options to make your seaside wedding a reality on a budget.
Capacity: Up to 160 guests for seated events and 200 guests for cocktail events.
Address: 72 Golf Avenue, Mollymook NSW 2539.
Novotel Wollongong Northbeach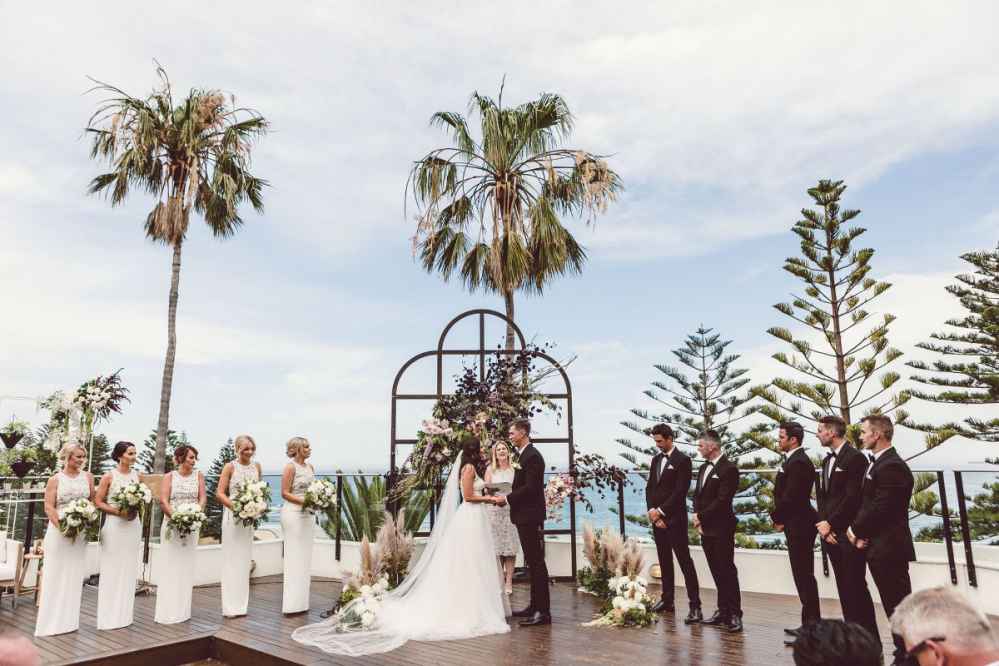 Looking for one of the ideal coastal wedding venues in NSW? Don't look any further! The award-winning Novotel Wollongong Northbeach has earned its reputation as one of Illawarra's most prestigious wedding venues thanks to breathtaking ocean views, spacious function rooms, and exceptional service.
This stunning beachside venue offers a variety of spacious indoor and outdoor function spaces that can accommodate anything from a small wedding of 40 to a large wedding reception of 350 guests. 'The Deck,' the rooftop terrace, has spectacular ocean views, making it an ideal location for a beachside wedding ceremony.
Capacity: 350 guests.
Address: 2-14 Cliff Rd, North Wollongong NSW 2520.
The Sebel Harbourside Kiama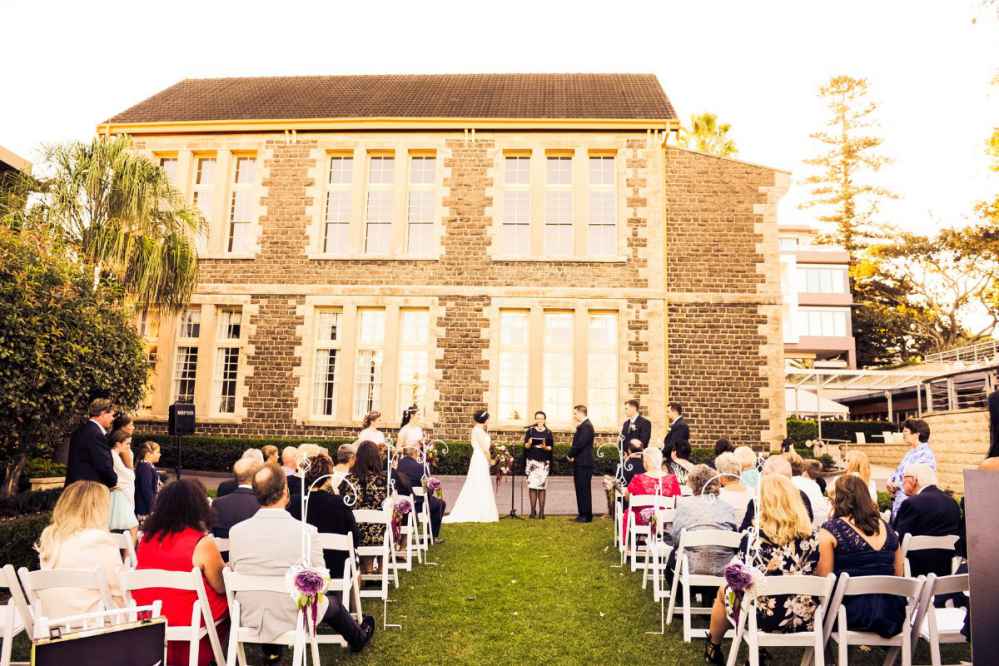 Another coastal wedding venue NSW that you should not overlook if you want to have a one-of-a-kind wedding ceremony.
Kiama is a unique destination for a weekend getaway and a romantic beachside wedding. The Sebel has enough room for all of your guests, making it an all-in-one venue where no one needs to leave (and probably won't want to!)
The variety of versatile locations throughout this facility provides plenty of options for your ceremony and reception and cater beautifully to weddings of all sizes and styles, as well as all budgets. To learn more, contact their knowledgeable wedding planning staff today.
Capacity: 140 guests.
Address: 31 Shoalhaven St, Kiama NSW 2533.
The Jackson Ranch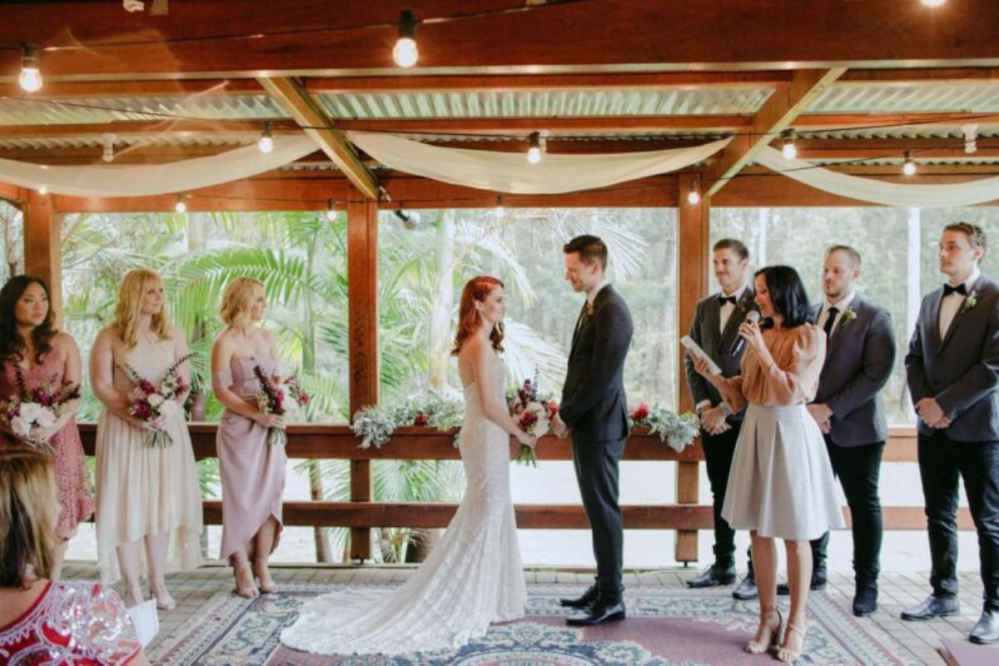 The Jackson Ranch offers a venue for bespoke, private, and romantic events. Draw inspiration from the Ranch's 37 acres of wooded wonderland, a wooded wonderland with tree-lined vistas filtering dappled light from leafy canopies, blue water views of Lake Willinga, and secluded nooks for magical moments.
The grounds are ideal for beautiful outdoor weddings, with a variety of backdrops to choose from. Each wedding at The Jackson Ranch is unique, whether it features moody rainforests, lake views, or secluded sandy beaches.
Plan your tranquil destination wedding at The Jackson Ranch. With plenty of overnight accommodations for guests, onsite restaurants, and other amenities, this is an ideal location for a weekend getaway wedding.
This deserves to be one of the best coastal wedding venues NSW to bring you unforgettable romance for your wedding ceremony.
Capacity: Up to 200 guests.
Address: 101 Willinga Rd, Bawley Point NSW 2539.
Kianinny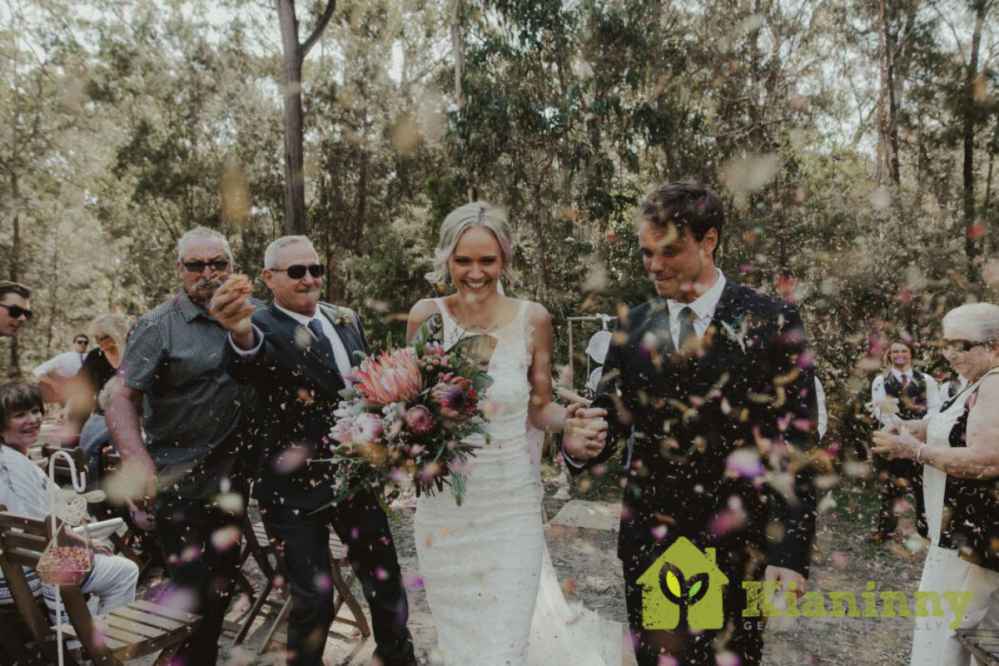 Spend an entire weekend celebrating with your loved ones on the beautiful Sapphire Coast. Kianinny is located on the picturesque Sapphire Coast of New South Wales in Tathra.
Kianinny, a South Coast wedding venue, will make your dream wedding a reality. You can gather your family and friends for a memorable weekend-long celebration with beautiful native bush scenery, guest accommodation, delicious catering options, and fun activities.
Their cottages, located near Tathra beach between Melbourne and Sydney, allow you to personalize your celebration.
Your Sapphire Coast wedding will be one-of-a-kind, from the location of your ceremony and reception to the creation of stunning wedding photos set in the native surroundings near a lake, bushland, and beach.
Capacity: 150 guests.
Address: 246 Tathra Rd, Tathra NSW 2550.
Saltwater Fingal Bay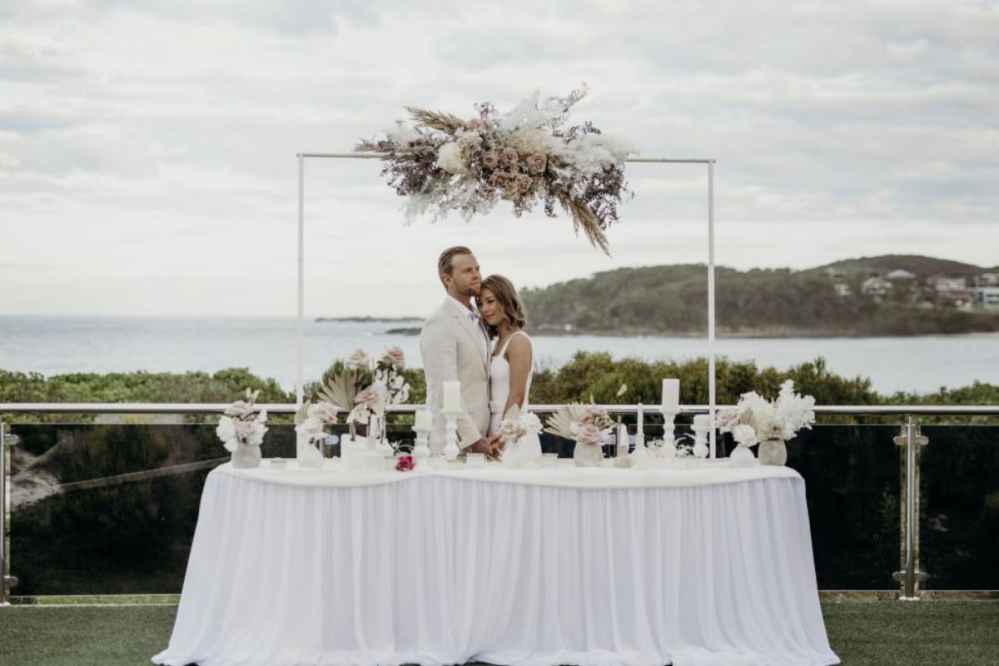 Saltwater Fingal Bay is another appealing option for one of the best coastal wedding venues NSW that you should not overlook.
Saltwater Restaurant is a beautiful beachfront venue for wedding ceremonies and receptions on the water.
In one of Australia's most spectacular locations, the venue offers a refreshing new décor, attentive staff, delicious food, and enough space for up to 150 guests.
Saltwater is the ideal venue for a destination wedding on the water, with ceremonies, photos, and reception all in one location, and accommodations for all guests nearby.
Capacity: 150 guests.
Address: Level 1/3 Marine Dr, Fingal Bay NSW 2315.
Villa Vivante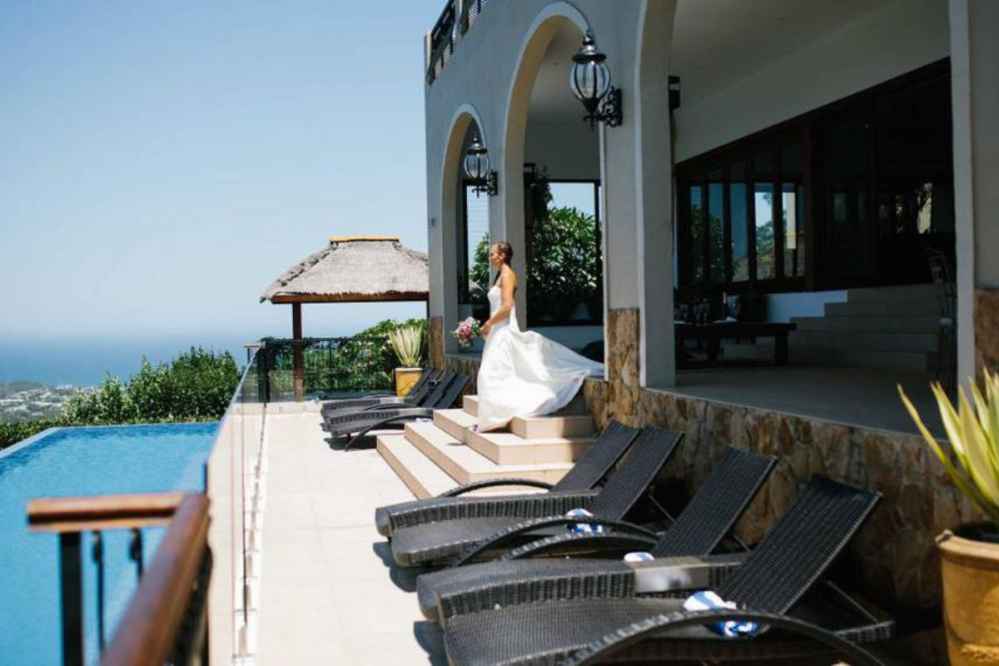 Villa Vivante, an exquisite luxury hilltop venue with breathtaking views and luxurious surroundings, is regarded as one of Australia's most exclusive wedding venues.
This welcoming property provides complete privacy. The Solitary Islands' tranquillity and panoramic views of the Coffs Coast are truly breathtaking.
Their meticulous planning, attention to detail, and personal relationships developed with each of their clients speak volumes about their professionalism.
Fill your Villa Vivante wedding with love, friendship, and laughter. Enjoy your day in luxury and sophistication.
Capacity: 100-120 guests.
Address: 111A Bruxner Park Rd, Korora NSW 2450.
The Cove Jervis Bay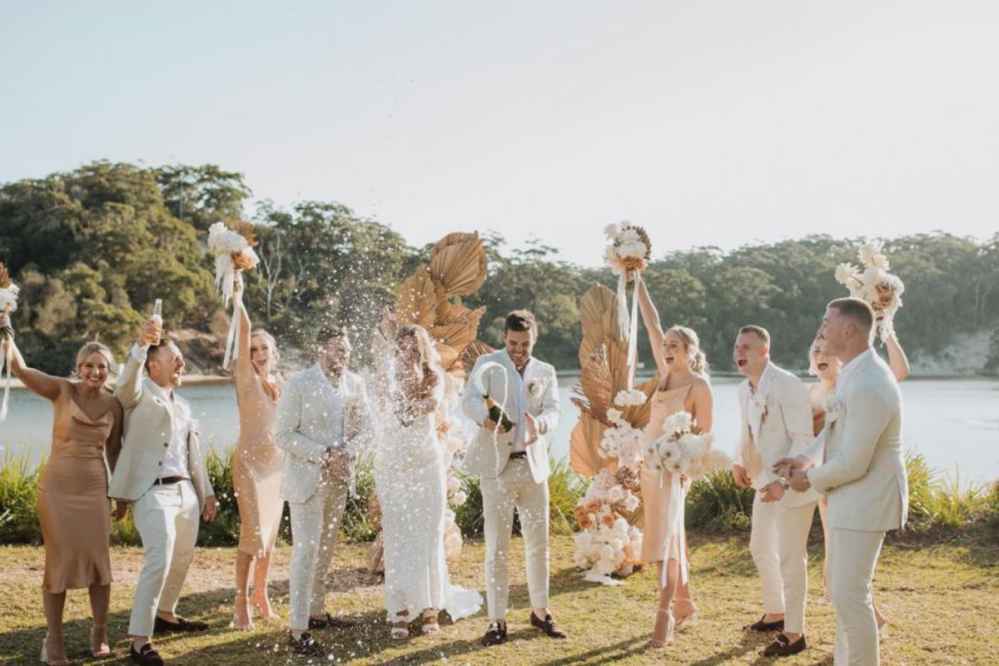 If you want a private getaway with all of your family and friends, The Cove in Jervis Bay is the perfect wedding venue.
You can have your wedding ceremony overlooking the ocean, as well as your own private beach for the duration of your stay! Your wedding reception is surrounded by the beautiful Australian bush, with all of your family and friends present for the entire event.
Capacity: 200
Address: Ellmoos Road via Booderee National Park, Jervis Bay NSW 2540.
NRMA Murramarang Beachfront Holiday Resort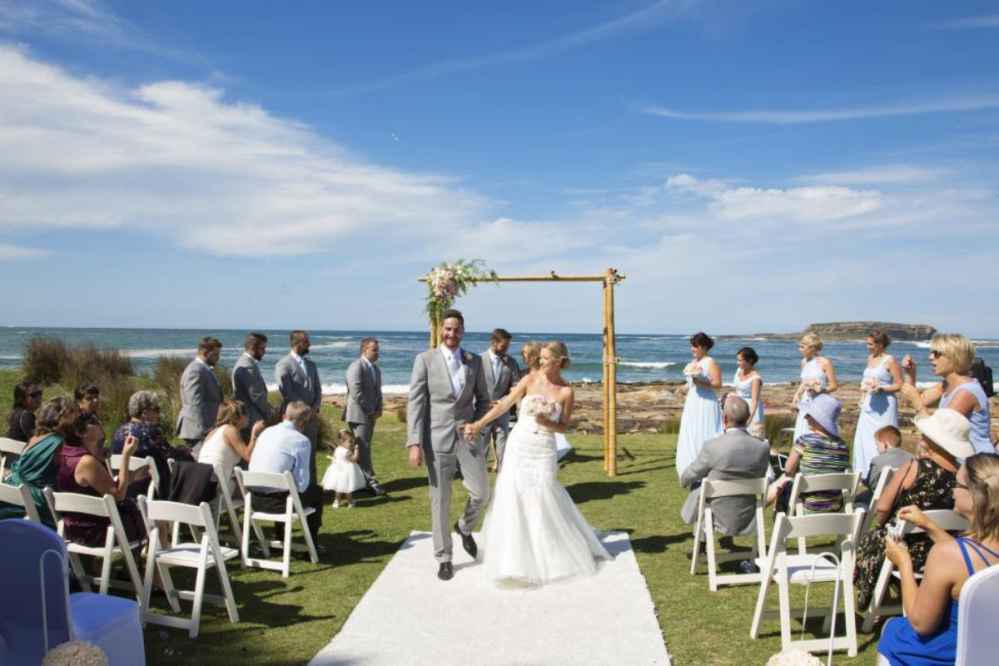 For couples looking to host a beautiful South Coast wedding, the NRMA Murramarang Beachfront Holiday Resort is an excellent choice.
It is one of the best waterfront wedding venues NSW that has numerous beautiful ceremonies, reception sites and is reasonably priced. This award-winning venue is ideal for couples who value exquisite meals, spectacular coastal views, and on-site accommodation.
Capacity: 20 – 120 guests.
Address: Banyandah Street, South Durras, NSW 2536.
Long Reef Golf Club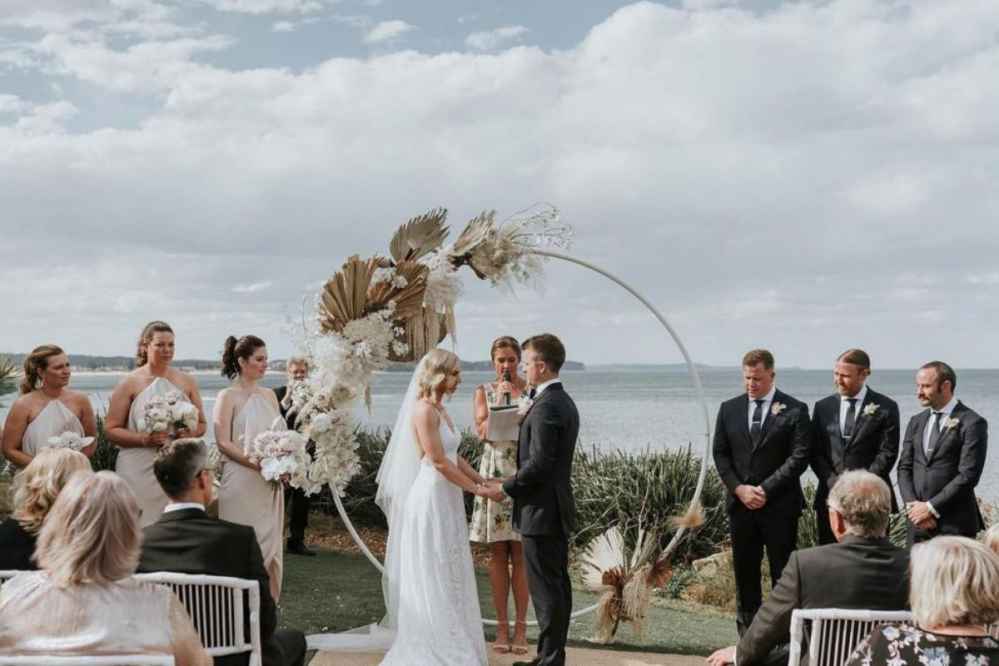 Long Reef Golf Club is an excellent choice for a beach wedding venue in Sydney's Northern Beaches.
This breathtaking beachfront location in the secluded cove of Fishermans Beach will provide you with a private beach setting for your wedding day. It is uniquely located by Long Reef headland, with unrivalled views all the way to the Central Coast in the north and Manly in the south.
Capacity: 140 – 250 guests.
Address: Anzac Avenue, Collaroy, NSW 2097.
In conclusion
If you're looking for one of the unique and unforgettable coastal wedding venues NSW, these coastal gems could be perfect for you. With amazing ocean views, rolling hills, and rustic charm, these venues will make your special day even more memorable!
Don't forget to check out our Blog for more articles on NSW wedding venues.