Are you looking for a unique wedding venue with a Brisbane River backdrop? Look no further than these top 10+ best Brisbane River wedding venues.
Have you ever considered having your nuptials overlooking the Brisbane River? There are several venues that offer stunning river views, creating an unforgettable wedding ceremony and reception. Here are the top 10+ best Brisbane river wedding venues for unique weddings in 2022.
Amazing Brisbane River Wedding venues
1. Brisbane Marriott Hotel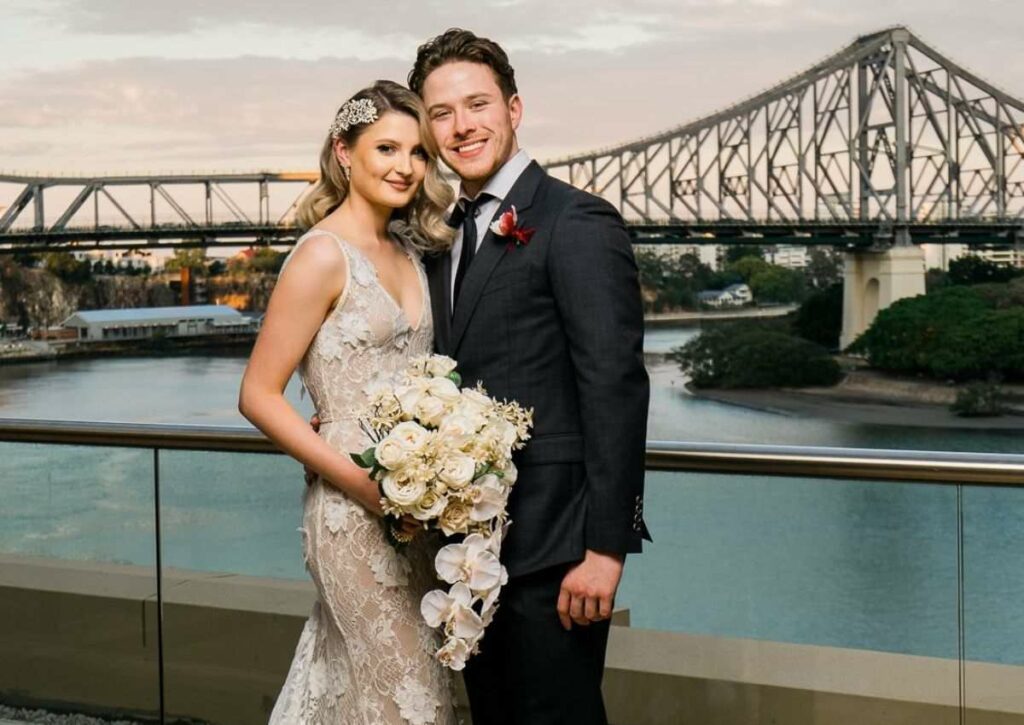 If you are looking for one of the best Brisbane river wedding venues, we cannot speak highly enough of the Brisbane Marriott Hotel.
The Brisbane Marriott, located in the heart of the CBD and overlooking the river, is a 5-star hotel wedding venue with a grand ballroom ideal for elegant inner-city weddings. This luxury hotel is known for its exceptional service and boasts stylish architecture, elegant event spaces, and stunning views of the city skyline and Brisbane River.
2. Customs House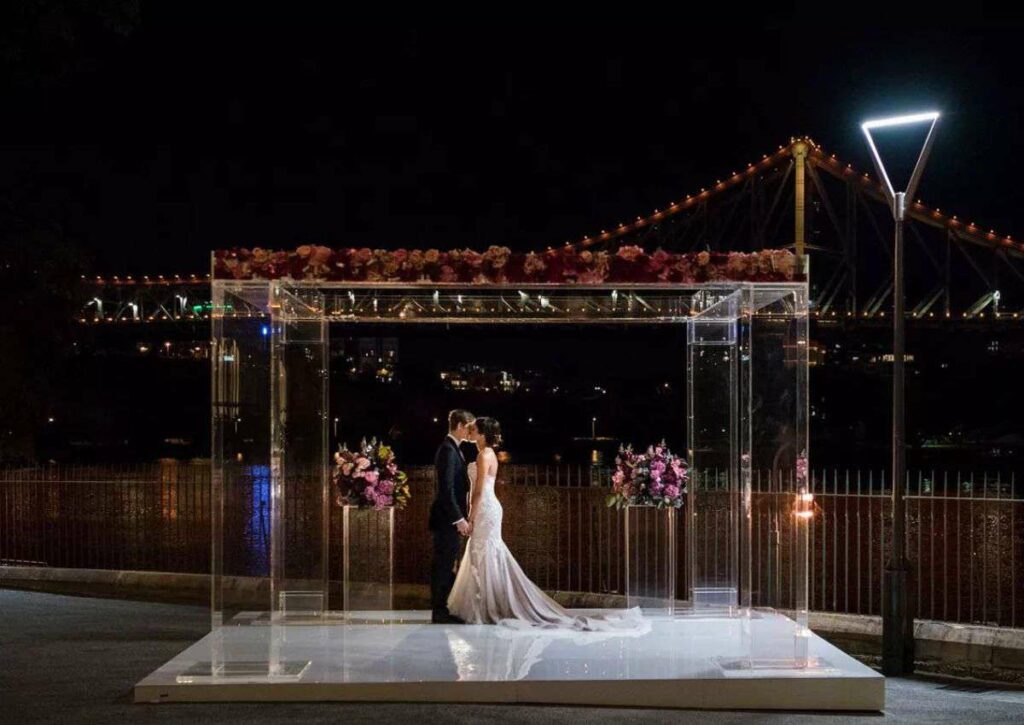 Brisbane couples clearly prefer Customs House.
This location boasts a breathtaking setting with river views, magnificent architecture with cathedral ceilings and sculptured pillars, exceptional customer service, and top-notch food.
Wedding ceremonies and receptions held at Customs House are renowned for their magic.
3. Riverlife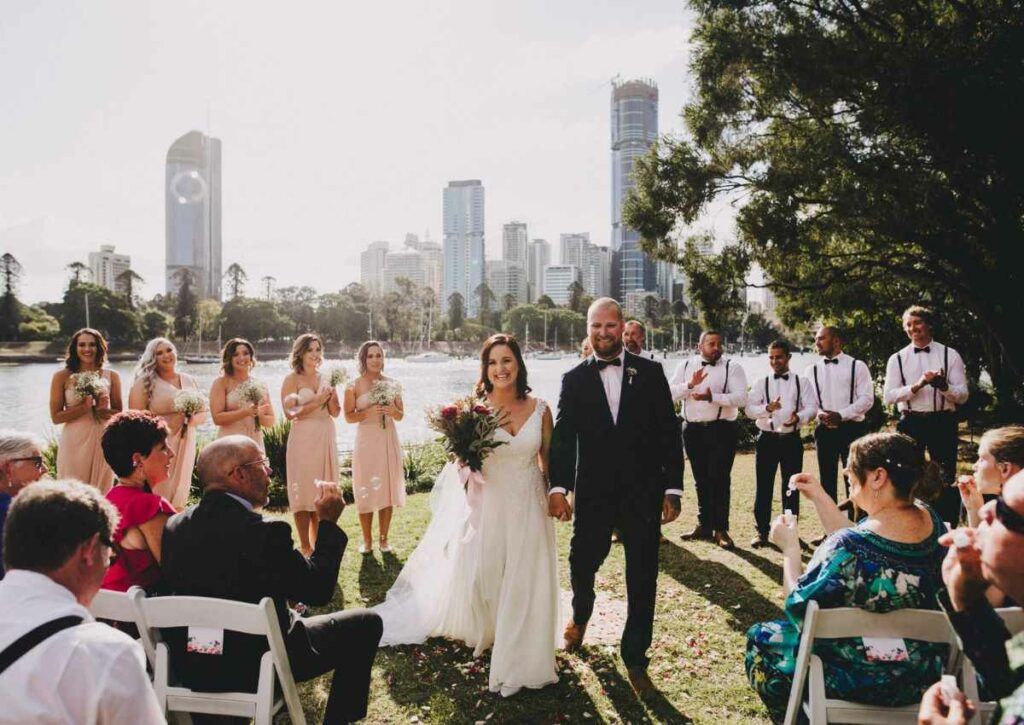 Riverlife could be one of the best wedding reception venues Brisbane river you've been searching for.
This venue, which prides itself on being Brisbane's hidden gem, combines a stunning location on the Brisbane river with the adaptability of four waterfront outdoor venues and a heritage-listed function room, as well as the capacity to host weddings that are truly unforgettable.
4. Stamford Plaza Brisbane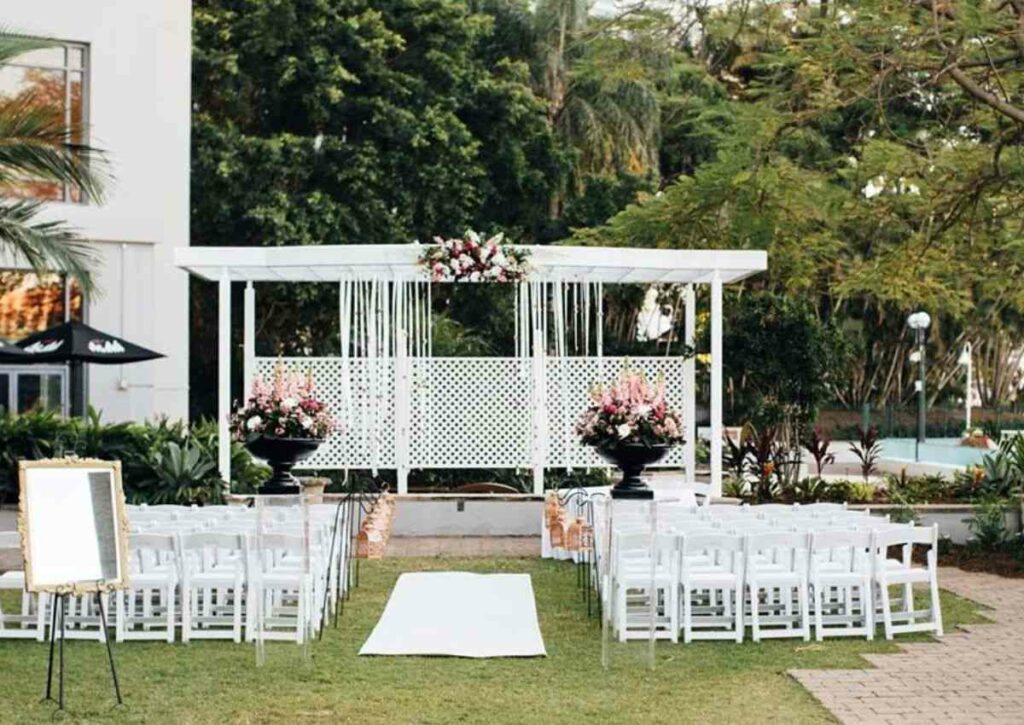 The Kangaroo Point cliffs and the Brisbane River provide a breathtaking backdrop to your special day at the Stamford Plaza Brisbane.
The Stamford Plaza Brisbane offers everything you need in one place, including expertly prepared menus, friendly service, a selection of function rooms, a wealth of photo opportunities, and luxurious accommodations for the bridal party and guests.
5. Waters Edge Weddings and Events at Portside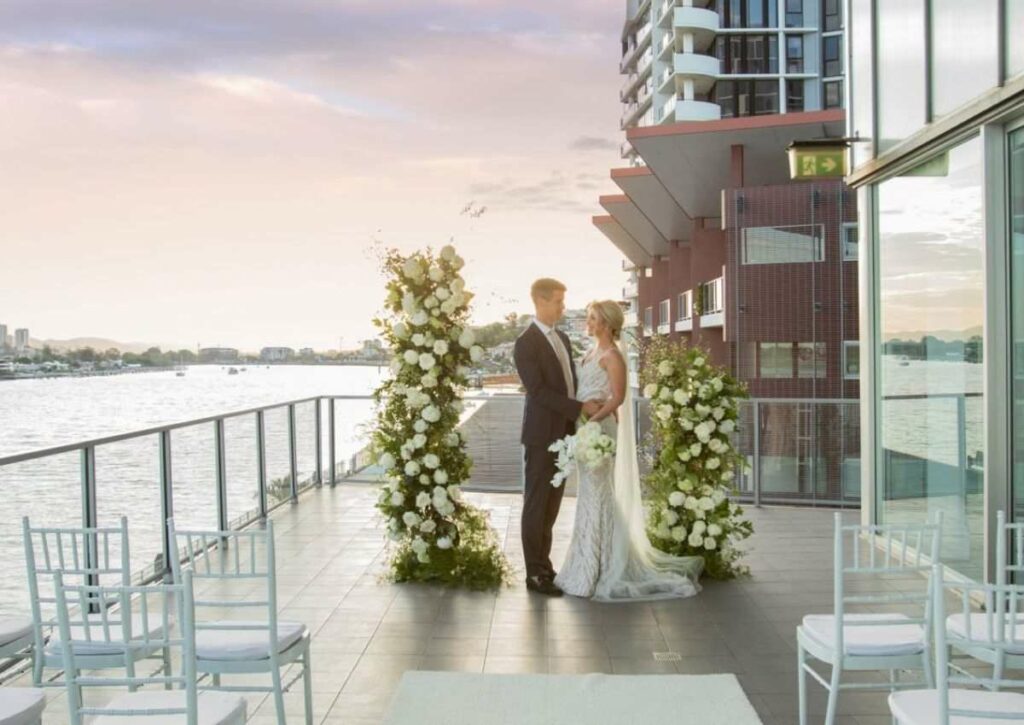 The ideal location for your Brisbane waterfront wedding is Waters Edge Weddings and Events at Portside, which features multi-award-winning cuisine, impeccable service, and contemporary decor. This magnificent venue effortlessly accommodates weddings with up to 400 seated guests and 850 cocktail guests and offers breathtaking uninterrupted views of the city skyline across the Brisbane River.
6. Rydges Hotel South Bank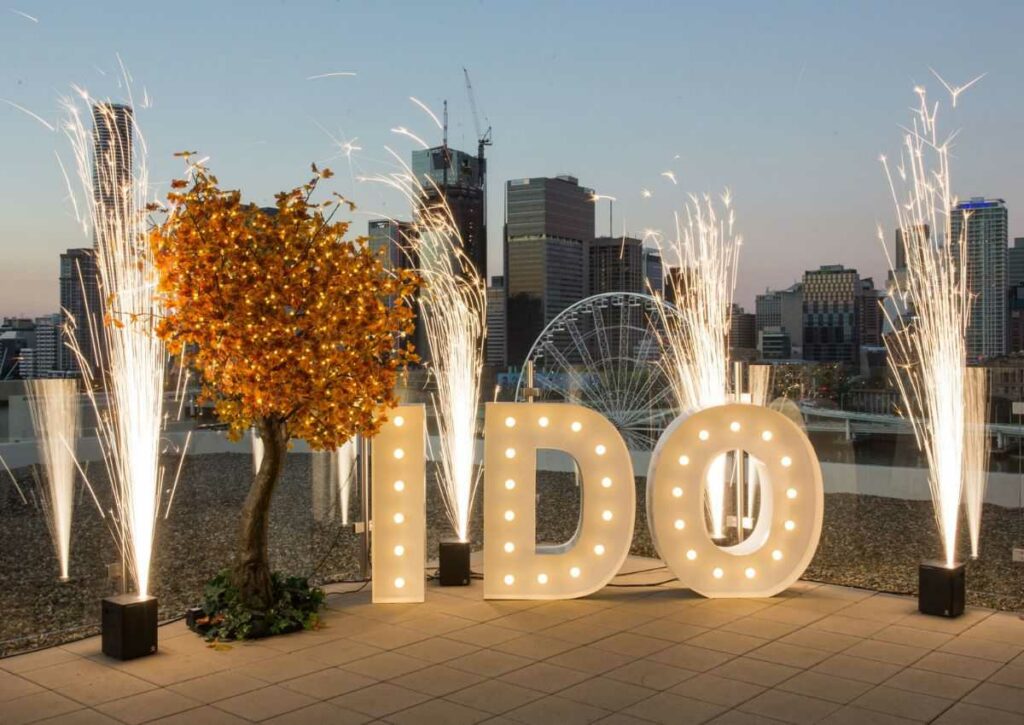 If you want to WOW guests with your venue choice, Rydges Hotel South Bank is the best option. This five-star venue, which is well-known for its unobstructed views of the Brisbane River and the city skyline, goes above and beyond to make dream weddings come true.
The dedicated wedding planner behind Rydges Hotel South Bank has options to suit events of all shapes, sizes, and price ranges, no matter what you have in mind for your special occasion.
7. The Lighthouse Restaurant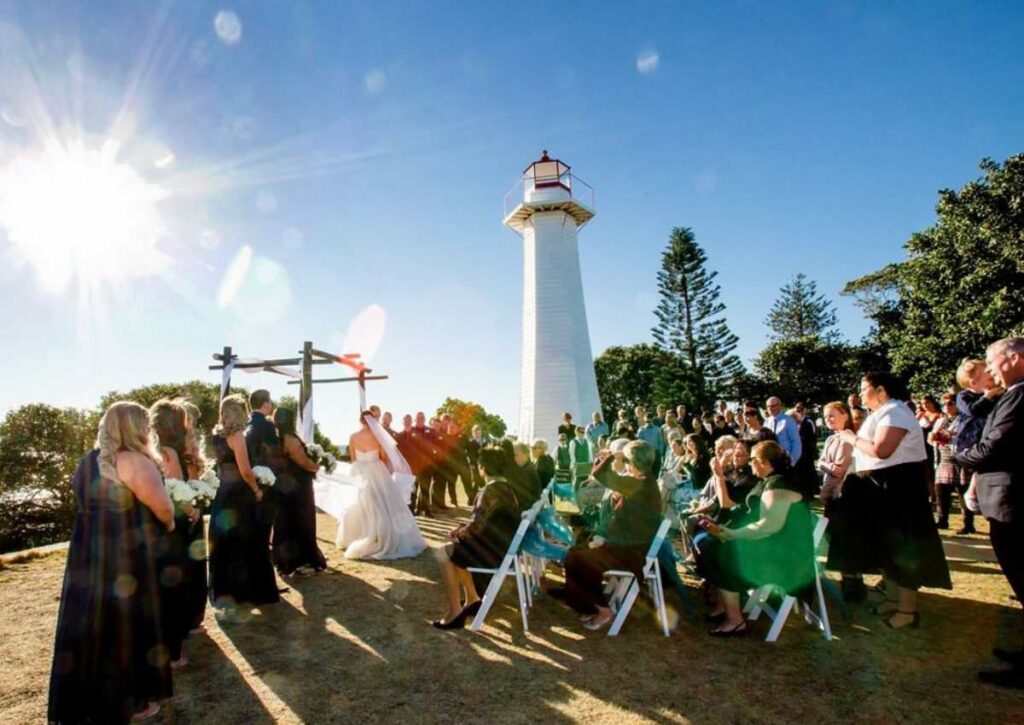 The Lighthouse Restaurant in Cleveland, Queensland, is an ideal location for an oceanfront wedding. This relaxed, peaceful, and beautiful nautically-styled venue, with views of Moreton Bay and its surrounding islands, is a particular favourite among ocean lovers and those looking to create a truly stunning event for their special occasion.
The Lighthouse Restaurant has something for every ocean lover, whether you are celebrating with just your closest friends or planning a lavish event for up to 250 guests.
8. Vibe Hotel Gold Coast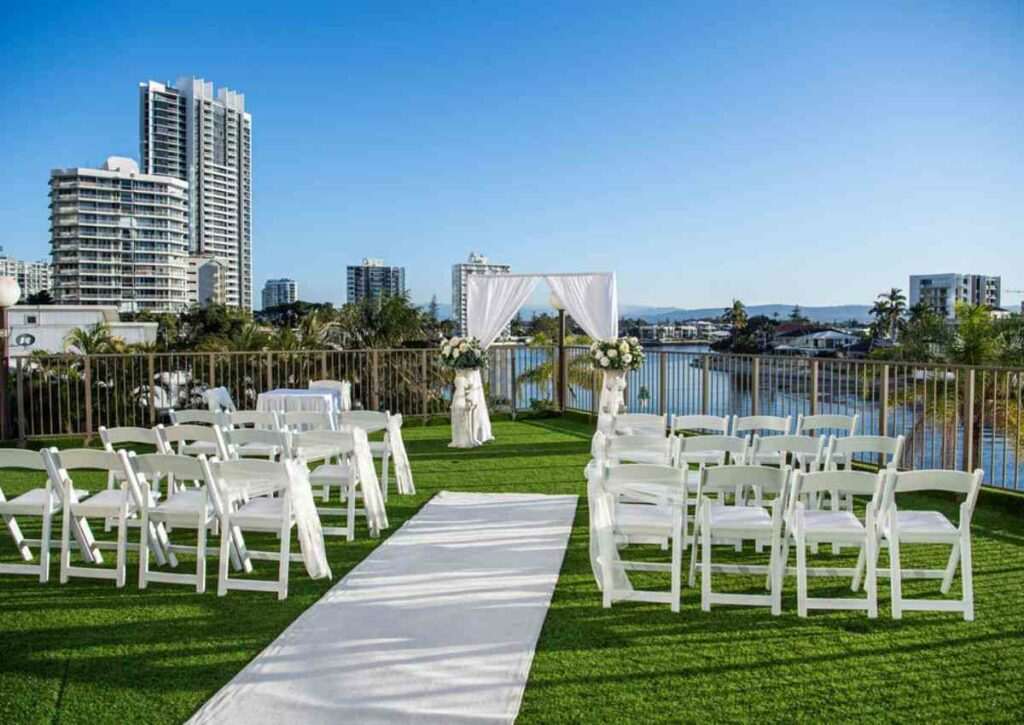 Vibe Hotel is a fantastic venue choice for waterfront weddings on the Gold Coast. This popular hotel has a variety of light-filled wedding reception spaces as well as a stunning rooftop terrace ideal for hosting dreamy outdoor ceremonies overlooking the Nerang River and the Gold Coast Hinterland.
You'll appreciate Vibe Hotel's customizable wedding packages, stylish accommodations, delectable menus, and impeccable service.
9. Blackbird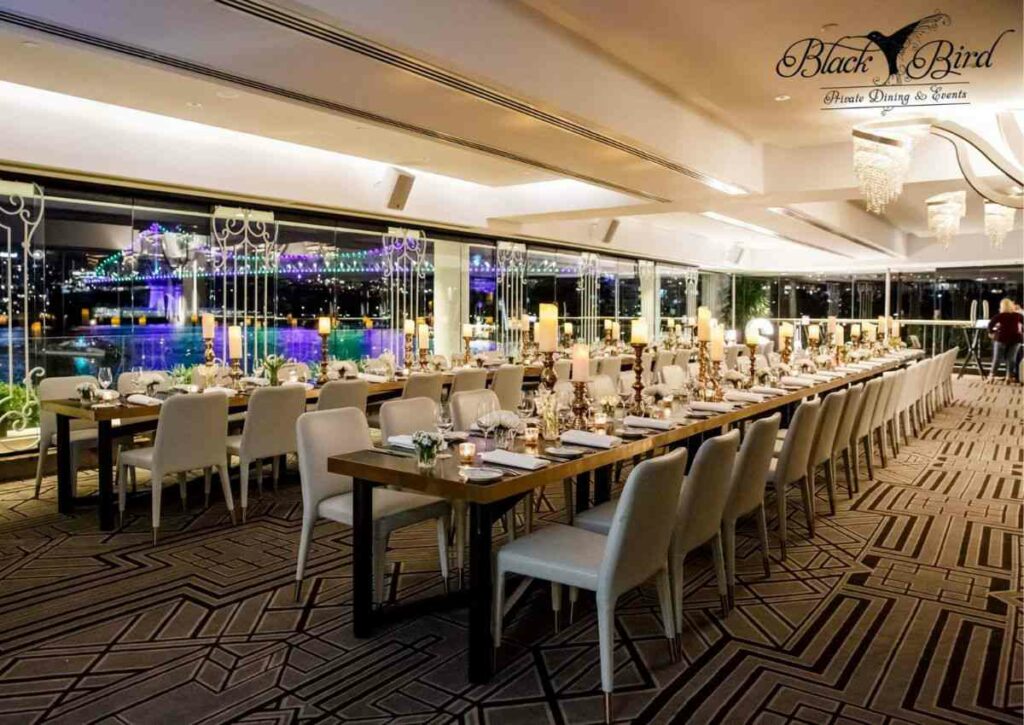 One of the great Brisbane river wedding venues that you cannot overlook. Blackbird Bar & Restaurant is a modern waterfront wedding venue in the heart of Brisbane, overlooking the iconic Brisbane River. This all-inclusive Brisbane wedding venue hosts ceremonies and receptions and offers impeccable service, custom wedding packages, and delectable menu options.
10. Emporium Hotel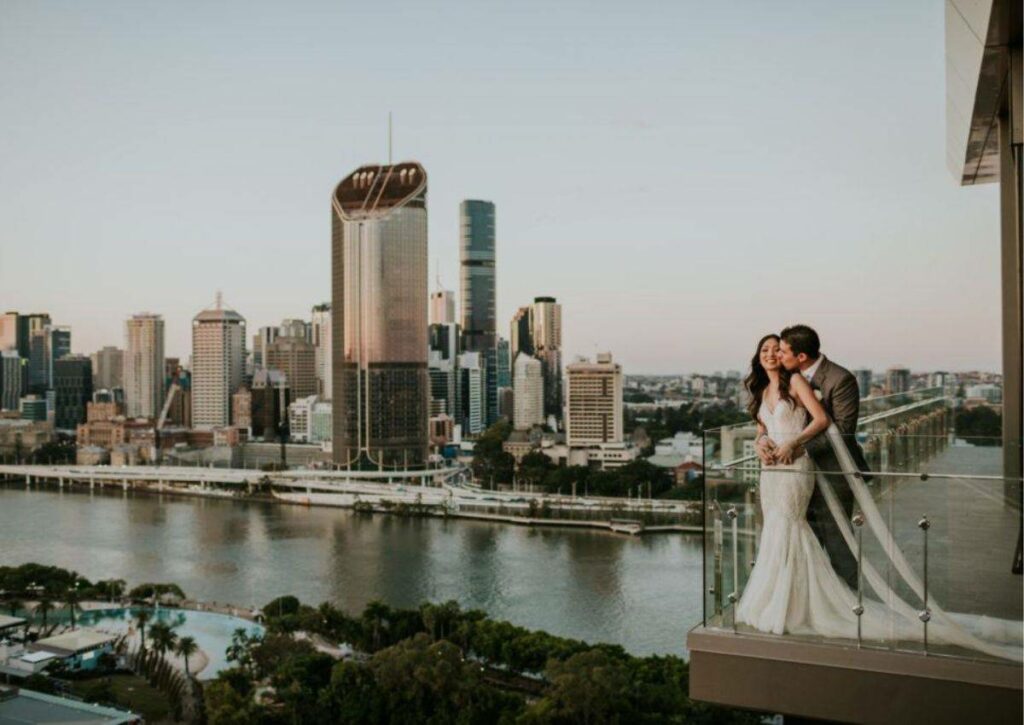 The Emporium Hotel in Brisbane's Southbank will provide you with a luxury hotel wedding experience unlike any other. It is an exquisite and romantic destination for your Brisbane City wedding, with its fairy tale Frangipani Ballroom venue, an infinity pool, and 143 award-winning boutique bedrooms with views of the Brisbane River.
Some tips to make your unique wedding go smoothly
Read and Save All Vendor Contracts
We're sure you'll be thrilled to receive and sign contracts from all of your wedding vendors. Make sure to carefully read each contract before signing your name. You'll want to double-check that your name(s), wedding date, and venue are all correct. You should also notice that the correct package is printed (hours and price).
Follow a Wedding Day Timeline
Your timeline should include the timing and order of hair and makeup, what time your partner and his or her group should begin getting ready, when will your first look take place, ceremony details, and everything that will happen during your reception. Consider a wedding day timeline to be a playbook for a big game; it specifies the key players and when each moment will occur!
Hire a Day of Wedding Coordinator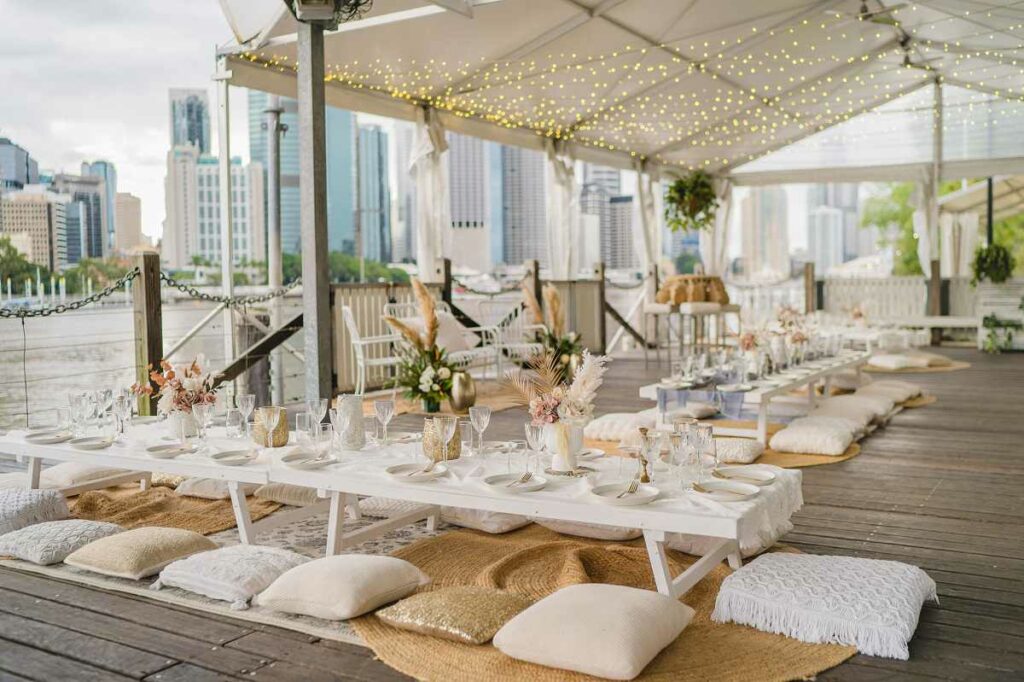 If you want to be present on your wedding day but aren't the main point of contact, you should think about hiring a wedding day coordinator. Your coordinator will review your contracts, contact and stay in touch with all of your vendors, create your wedding day timeline, organize your details, and run your wedding day from start to finish in the weeks leading up to your wedding day.
Make Sure to Eat (and Drink Water!)
Plan ahead of time how you will spend your time leading up to your ceremony, including breakfast and lunch for you, your partner, and your entire wedding party. You might even want to include some snacks in your wedding day emergency kit—a protein bar can come in handy if you're feeling peckish.
Not only have you carefully selected your menu, but it's also critical to stay fueled for dancing and to balance out any cocktails you're drinking.
Conclusion
You can't go wrong with a Brisbane River wedding venue. The river offers the perfect setting for a unique and unforgettable wedding. With so many great Brisbane River wedding venues to choose from, you're sure to find the perfect one for your special day. Check out our top 10+ best Brisbane River wedding venues for unique weddings in 2022, and start planning your dream wedding today!
Check out more post on Designa's blog to have more helpful tips for your wedding day. Moreover, you can visit Designa to check out more venues and create your wedding in 3D.